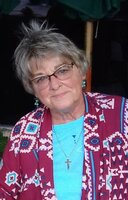 Ramsie Martin
Ramsie (Josephine Lurames) Martin, 81, passed away May 29, 2022.
Funeral Services will be Saturday, June 4, 2022 at St. Francis Village with a Rosary beginning at 9:30 a.m. and Mass of Christian Burial beginning at 10:00 a.m.
Private Interment will be in the Hinsdale IOOF Cemetery in Lake City, Colorado.
Ramsie Martin was a cherished daughter, devoted mother, and the "goofiest Granna" you'd ever meet. She loved her faith, her family, her friends, and her dogs. She was a talented crafter who also had a great love of music her entire life. Her ultimate joy was spending time in her beloved mountains in Lake City, CO.

In her later years, she studied to become a Secular Franciscan as a humble follower of St. Francis of Assisi. She devoted many happy hours in the service of her community at St. Francis Village in Crowley.

We loved her dearly, and miss her so much already!
Ramsie is survived by her daughter, Melissa Murnane and husband Tom, and son Monte Hannah II. She was so very proud of her grandsons, Connor Murnane, Brennan Murnane (wife Amber), and Quinn Murnane. She instilled in us all a love of the outdoors, an adventurous spirit, and a lightheartedness that made us laugh on a regular basis.
Preceding her in death were her parents, E.A. and Margaret Jordan Baldridge, and her husband of 30 years, William (Bill) Martin.
Please consider a donation to St. Francis Village Catholic Chapel or the Humane Society of North Texas in her memory.