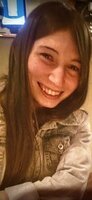 Skylar O'Brian Terrell
Skylar O'Brian Terrell was born in Fort Worth, Texas on October 29, 1998. A graduate of All Saints Episcopal School, Skylar had a wonderful group of friends and mentors, was active in Future Problem Solvers of America, Drama, and the Solar Car Team. At Tarleton State University, Skylar was majoring in Bio-Chem and immensely enjoyed research projects.
Skylar's interests were many, from raising lizards, collecting swords, politics, learning to play the guitar, propagating plants, rock collecting, photography, baking, studying fungi and anything and everything in nature. Skylar loved the outdoors, especially sunsets, star-gazing, hiking and camping in National Parks and forests across the country.
Skylar left this world on Friday, October 14th, 2022 leaving behind many friends and family to cherish the memories and mourn the loss of this most interesting, knowledgeable, inspiring, curious, brave and kind soul.
Survivors: Those left behind to cherish Sky's precious memory are, parents, Valerie and Danny Terrell; sister, Natalie Terrell; aunts and uncles, Cathy and Phillip Tillman, Patti and Dr. Chuck Calkins, Michelle and Sandy Terrell, and Kelly and Jeff Clifton; cousins, Matt and Lee Tillman, Kim Hayes, Matt and Andrew Johnson, and Jeffery and Ryan Clifton; birthmother, Robin Whitt; birthfather (in memory) Chris J. Fowler; grandparents, Lynn and Mark Jones; and a host of extended family and friends.
Family and friends will gather to remember and celebrate Skylar's life at 1:00 p.m. on Friday, October 28, 2022 at Joe T. Garcia's.
We have been blessed with our family through the brave and loving option of adoption. Donations may be made to the Gladney Center, Fort Worth, Texas.