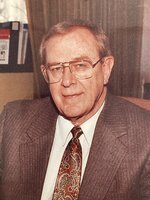 E. Pitt Smith
E. Pitt Smith died October 20, 2022 at his home. He was 92.
Mr. Smith was a native of Texas. He graduated from R. L. Paschal High in Fort Worth, TX and attended Texas Tech University in Lubbock TX, received his under graduate degree in business administration, education, and range animal husbandry from Sul Ross University in Alpine, TX. He was part of the National Intercollegiate Rodeo Association throughout his college days.
In 1952 Mr. Smith married Hazel Mather of Marathon, TX. After serving in the Army during the Korean war, he returned to Sul Ross University and received a Master's Degree in Education.
In 1956 he joined the US Food and Drug Administration. He served as field investigator in New Orleans and Houston districts, field supervisor in San Francisco and Kansas City Districts. He served as District Director in Denver District for 10 years and District Director in the Buffalo District for 20 years. During his career with the FDA, Mr. Smith was instrumental in developing and managing a variety of precedent criminal and civil Federal court cases involving fraud, adulteration in the food, pharmaceutical and medical device industries, along with the illegal distribution of drugs. He was responsible for establishing the first formal training in Food and Drug law for field personnel, designed and implemented the initial courses for field supervisors. After over 40 years of service to the citizens of the US and the government of The United States he retired in 1996 to his home in Buffalo, NY.
His wife Hazel preceded him in death in 2017. They were married over 65 years.
Survivors include Sister-in-law Sue Smith of Fort Worth and numerous nieces and nephews of the Mather and Smith families.
Mass of Christian Burial: 11 a.m. Wednesday, November 9, 2022 at St. Andrew Catholic Church, 3312 Dryden Rd, Fort Worth, TX.
In lieu of flowers, please consider a donation to the Disabled American Veterans or St. Jude Children's Hospital.