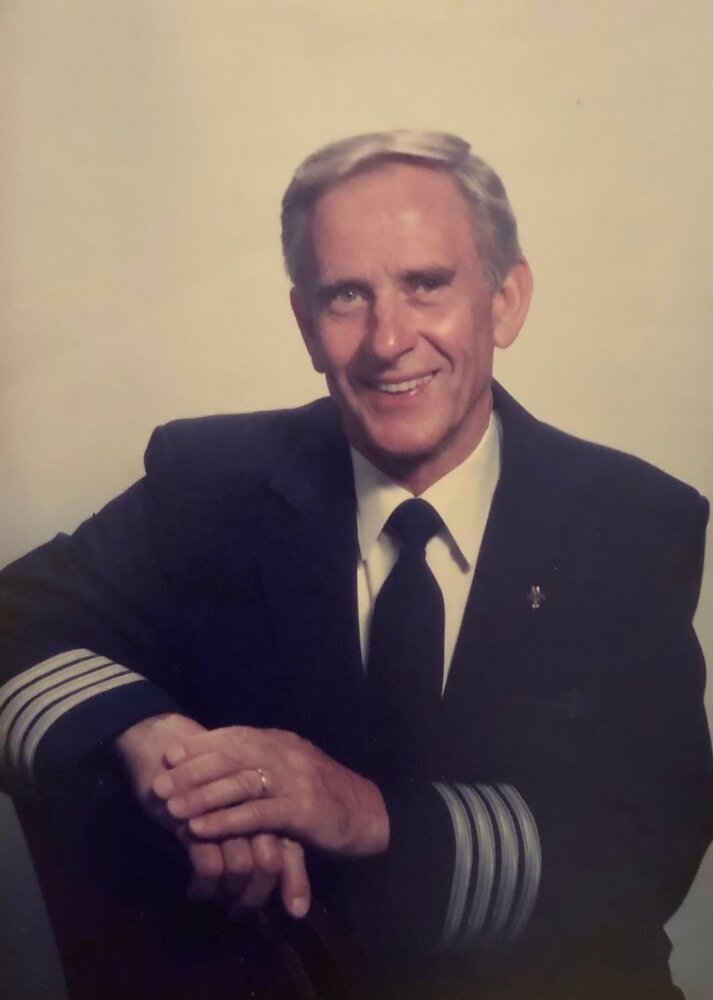 Obituary of Robert Eugene Schmidt
Robert Eugene (Bob) Schmidt, 91, died peacefully Monday, May 9, 2022 and was reunited with his wife of 68 years in Heaven.
Visitation: 5 - 7:00 p.m. Monday, May 16, 2022 at Thompson's Harveson & Cole Funeral Home with a Vigil Service beginning at 7:00 p.m.
Mass of Christian Burial: 11:00 a.m. Tuesday, May 17, 2022 at St. John the Apostle Catholic Church.

Interment: 9:30 a.m. Thursday, May 19, 2022 at the Dallas Fort Worth National Cemetery.
Bob was born on June 23, 1930 in Iola, KS. He was the 4th of 5 children born to Ruth Marie Meyer and Michael Henry Schmidt. He grew up in Humboldt, KS, graduated from Holy Family High School in Tulsa and served our nation by joining the military in 1948. In 1950, he received his student pilots license after just 6 hours flight time with an instructor in Odessa, and he then flew solo. He soon bought an airplane for $500, while he was on active duty with the Guard in Alexandria, Louisiana.
When he was stationed in Alexandria, he met the love of his life, DeDe, at a Catholic Youth Organization (CYO) dance. They later married on February 13, 1954 at St. Frances Cabrini Catholic Church.
From September 1950 to June 1952, he was hand-picked to be the Base Commander's driver. He took the commander's son on his 1st flight in the $500 plane he had purchased. That commander's son went on to become the leader of the Thunderbirds air group.
Bob had over 17 years of active-duty service and an additional 7 years reserve duty advancing in rank and responsibilities from Airman to the field grade rank of Major, retiring from the USAF Reserve as a Major in 1990 at age of 60. He accumulated over 5,000+ military flight hours in 20+ varieties of US military aircraft, primarily jet fighters and multi-engine refuelers, qualifying as an Air Force Command Pilot in 1970. He was a much-respected jet fighter flight instructor (T-33), yet was a humble officer who avoided personal recognition or acclaim, challenging himself to be the best he could in all assignments.
Bob resigned from the active-duty Air Force and became a pilot for American Airlines in 1965. He and DeDe decided to raise their family in Wichita Falls, while he made it to work by commuting to Dallas Love Field in his single-engine Cessna. Between the Air Force and American Airlines, they began their life and legacy together which took them to many places including San Antonio, Big Spring, Topeka, Wichita Falls, Little Rock, Boston, Plano, back to Wichita Falls and ultimately Ft. Worth (Richland Hills) where they retired.
Bob loved to fly and enjoyed building his plane "Little Giant" in the workshop behind their house. He flew and competed in many air races in Reno. Every summer for 50 consecutive years he attended the world's largest air show EAA AirVenture in Oshkosh, WI. He was a very giving man, who was always willing to help those in need. And even though he was not a graduate, he was an avid fan of TCU sports teams and often attended games. He was an accomplished athlete, who frequently won running and cycling races and encouraged others to participate in physical activities.
He was devoted to raising his seven children and in recent years taking care of his wife of 68 years, DeDe until her death just 2 months ago. He was a devoted Catholic and attended mass regularly as well as the stations of the cross and the church's fish fry on Friday nights.
Bob is survived by his 7 children and their spouses, Cindy Schmidt, Tommy and Mary Helen Schmidt, MaryAnne and Tim Cole, Suzanne and Richard Marx, Karen and David Spika, Nancy and Rob Marcoe and Sara Schmidt Bush; 11 grandchildren, Brad and Vanessa Hanlon, Eric Hanlon, Hamilton and Maggie Marx, Allison and Patrick Payne, Garrison Marx, Natalie and Terence Peck, Grant Spika, Hannah Marcoe, Eddie Marcoe, Bailey and Devin Palmer and Emily Bush and 10 great-grandchildren Mariah Hanlon, Elijah Hanlon, Cory Hanlon, Julian Hanlon, Jeremiah Hanlon, Everett Payne, Brayden Payne, Greyson Payne, Adeline Marx and Maren Marx.
He is preceeded in death by his sister, Mary Schmidt Babbitt, and brothers Jack Schmidt, Bill Schmidt and Jerry Schmidt. He is also survived by numerous Schmidt and Grant family nieces and nephews.
Memorials may be made in Bob's memory to St. John the Apostle Catholic Church Outreach Center. Donations can also be made to EAA Young Eagles Free Flights program supporting the next generation of flying enthusiasts Free Young Eagles® Flights https://www.eaa.org/eaa/youth/free-ye-flights or to the Vintage Air Museum located in Fort Worth https://vintageflyingmuseum.org/about-us/


Thompson's Harveson & Cole Funeral Home & Crematory
4350 River Oaks Boulevard
Fort Worth, TX 76114
Ph: (817) 336-0345
For your information the link to the TDOB preneed information website is: