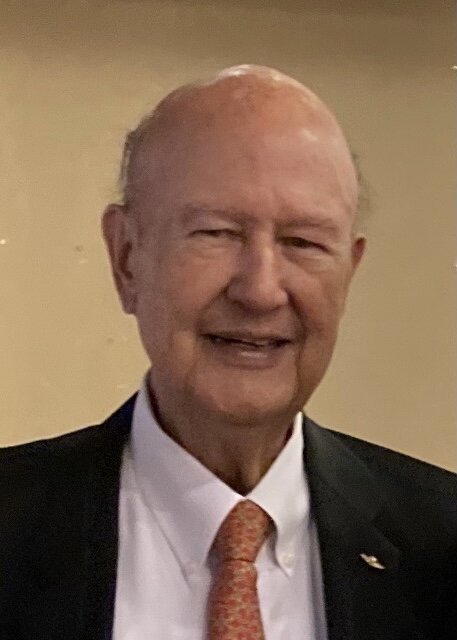 Obituary of Lorenzo Nicolas Williams
Lorenzo N. "Larry" Williams, an Air Force pilot who survived the Japanese occupation of Guam during World War II, graduated from Texas A&M University, flew numerous combat missions in Vietnam and Laos, and later forged a civilian career as an aerospace engineer, died on May 20, 2022, in Nacogdoches, TX, after a prolonged battle with cancer. He was 87.
"It was altogether fitting he got airborne in the pre-dawn hours, heading west as all aviators eventually do, when the air is usually smooth and stable and the sun would be following him on his way," observed friend and fellow Aggie pilot Taylor Scott. "He had long ago filed his flight plan and pre-flighted his aircraft and was ready to be on his way..."
Larry was born in Sumay, Guam, on October 31, 1934, the sixth child of eight siblings: Maria, Francisco, Andres, Johnny, Teresita, Annie, and John, Jr. During the liberation of Guam in 1944, his family was held captive by the Japanese and placed in a war camp, splitting the family apart. The US Marines rescued them and the family was reunited unharmed. His future father, John B. Williams, met and married his mother, Emiliana, adopting all the younger children.
Larry's family moved to Corpus Christi, TX, when he was 15 years old. He graduated from W.B. Ray High School in 1954 and planned to join the US Coast Guard, but a car accident in which he was an injured passenger resulted in a financial settlement that enabled him to go to college, the first in his family to do so and one of his proudest achievements. Larry was in Squadron 14 in the Texas Aggie Corps of Cadets. He received his degree in aeronautical engineering and was commissioned into the US Air Force in 1958. In 1966, he received a master's in aerospace engineering from the Air Force Institute of Technology.
Larry was a lieutenant stationed at McConnell Air Force Base in Wichita, KS, in 1959, when he met Mary Constance "Konnie" Buehne, a student nurse from Dodge City, Kans. When he received his permanent assignment to Lockbourne AFB in Ohio less than 6 months later, they decided to get married. Konnie and Larry had four children and celebrated their 62nd wedding anniversary in April.
In 1962, Larry was selected to serve as a member on a Minuteman Missile Crew, a key component of the nation's defense in the heated atmosphere of the Cuban Missile Crisis. He became a missile combat crew commander at Malmstrom AFB, Mont. Larry deployed on three tours in support of the Vietnam War where he provided airlift support of Khe San Marine Base during the Tet Offensive in 1968 as a C-130 command pilot, and performed Ho Chi Minh Trail interdictions and Saigon Embassy evacuation air cover as a AC-130 command pilot. His decorations include the USAF Air Medal as well as the Presidential Unit Citation.
His next assignment took the family to Texas A&M, where he taught military science from 1970-1975 and served as assistant commandant of the Corps of Cadets. His final assignment was at Eglin AFB in Florida, where he was a lead compatibility engineer in SEEK EAGLE for the F-4 aircraft.
After his service, Larry worked as an engineer at Texas Instruments and Boeing Military Aircraft Co. He was a lead engineer on the Bell Boeing V-22 Osprey and the Lockheed Martin F-22. He held a commercial pilot rating with over 3500 hours of flying time in light aircraft, bombers, airlift, and AC-130 gunships.
Known to his grandchildren as Poppi, Larry loved making happy memories at the beautiful beaches of northwest Florida near Eglin. In later years, summers at Panama City Beach became a cherished family tradition. Poppi would haul the canopies and chairs in his black pickup truck and expect help each morning setting them up in prime position on the beach. "It doesn't get much better than this," he would say from his lounge chair, as his vintage transistor radio played big band tunes and he watched over the toddlers in the shade. He also loved gathering the family for brunch at fancy hotels at Easter and other holidays.
Larry will be remembered by those who knew him for his belief in taking good care of cars and tools, his ability to fix things, and his many sayings, including "Clean as you go," "Only handle it once," and "Make your trip count." He loved gadgets and adopted new technology throughout his life, including online bill paying, cellphones, routers, and the many remote controls involved in watching satellite TV. He credited his pilot training for enabling him to drive the 200 miles from Nacogdoches to Dallas twice a month until March 2022.
Larry was especially proud of his lifelong marriage, military service, and Catholic faith. He was a parishioner at Sacred Heart Church in Nacogdoches, where a memorial Mass will be held at a later date.
Larry was preceded in death by his son Brian and his siblings Maria, Andres, Johnny, and Teresita. He is survived by his wife, Konnie Williams of Nacogdoches; siblings Frank (Dolly) Williams of Santa Rita, Guam; Annie (Pete) Speth of Indiana; and John B. (Cathy) Williams of Corpus Christi, TX; daughters Nicole Alders (David) and Melissa Finn; son Robert (Stefanie) Williams; Brian's sons, Logan and Garrett Williams, along with 16 additional grandchildren and 10 great-grandchildren; and numerous nieces, nephews, grandnieces, and grandnephews.
Services will be held at St. Patrick Cathedral, 1206 Throckmorton St., Fort Worth, TX 76102, on Monday, June 6, 2022, beginning with a Rosary at 9:15 a.m., followed by a Mass of Christian Burial at 10 a.m. Interment will be at 2:15 p.m. at Dallas Fort Worth National Cemetery, 2000 Mountain Creek Parkway, Dallas, TX 75211.
In remembrance of Larry's life, the family asks that any charitable donations be made to Mother and Unborn Baby Care of North Texas or Heartbeat Pregnancy Center of Nacogdoches, Texas.


Thompson's Harveson & Cole Funeral Home & Crematory
4350 River Oaks Boulevard
Fort Worth, TX 76114
Ph: (817) 336-0345
For your information the link to the TDOB preneed information website is: