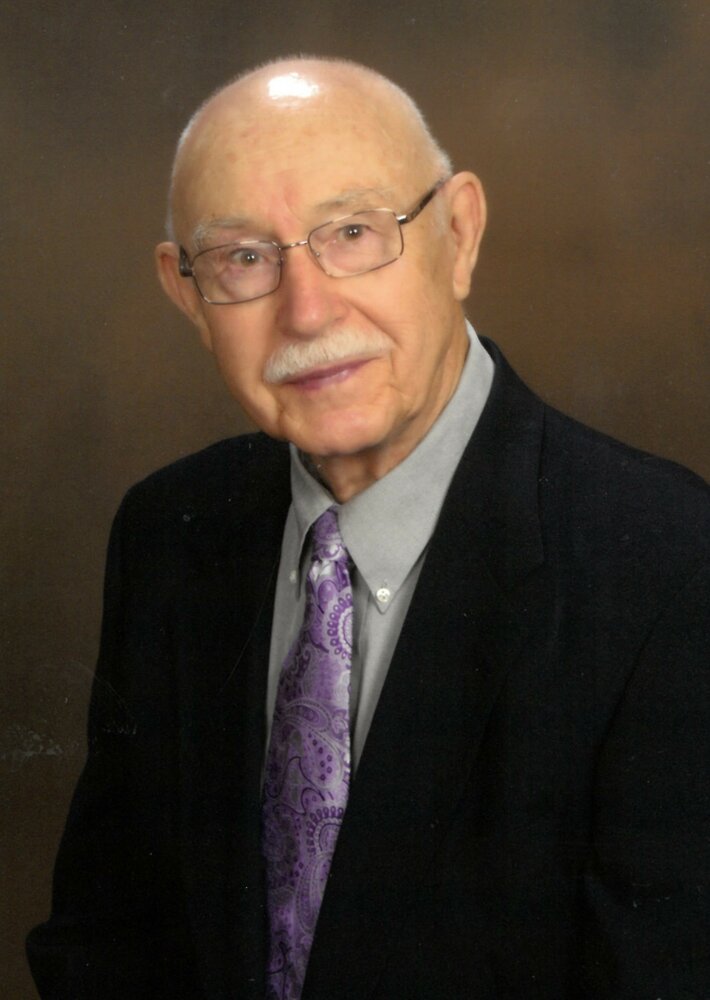 Obituary of Frederick Schmidt Burckhardt
Frederick Schmidt Burckhardt passed away May 26, 2022. He was born January 25, 1929 in Philadelphia, PA, the son of Carl A. and Florence Mae (Norris) Burckhardt. He was the youngest of 5 boys and 5 girls and grew up in the heart of Philadelphia in a three-story row house. His father emigrated from Stuttgart, Germany around the turn of the century and was Superintendent at Schmidt's Brewery. (Fred was named after the owner of the brewery, Frederick Schmidt) His father died when Fred was 9.
The family enjoyed summers in a cottage at the Methodist Camp Meeting Ground in Chester Heights, PA. Following graduation from Northeast High School in Philadelphia, Fred served in the US Air Force. He met his future wife, Edith Faye Gable, a few months before the end of his service when mutual friends set them up on a blind date. They were married in July 1952, just five months and three days later!
Fred and Edith lived in Pennsylvania for four years while Fred attended The Philadelphia College of Horology, graduating in 1955. The couple moved back to Texas the following year.
Fred first managed Deed's Jewelers and, after their move and enlargement, he continued to manage the store for 20 more years. When Deed's Jewelers closed in April 1988, Fred opened Fred's Watch and Jewelry Shop on Montgomery Street. He semi-retired in 1991, working three days a week – a schedule he continued for many years.
Fred's daughter and son-in-law, Linda and Dennis Chrysler, moved their family from California to Texas in 1995 to help take care of the store, and Fred decided to retire completely. The store was moved to Camp Bowie Boulevard for an enlarged space and Fred taught Dennis the art of clock making. Fred's youngest son, Jon, joined the store with his antique furniture which complimented the antique clocks carried at the store and truly made Jewelers on the Boulevard "a family affair."
Throughout the years, Fred spoke at numerous state and national conventions and gatherings; authored a monthly column for Horological Times; wrote articles for Independent Jewelers Magazine and other trade publications; received the title of Fellow of the American Watchmakers-Clockmakers Institute, their highest award; served as President of the American Watchmakers Institute; was a Certified Gemologist of the American Gem Society; was past president of the Texas Watchmakers Association; was past president of the Fort Worth Watchmakers and Jewelers Guild; served as Director for two years of the Texas Jewelers Association; was a guest lecturer on jewelry at Texas Christian University; and served on the Curriculum Advisor Committee at both Paris Junior College in Paris, TX and Mountain View College in Dallas, TX.
Fred was preceded in death by his wife, Edith, in 2020 and their son, Frederick Jr. in 1990.
He is survived by his children, Linda (Dennis) Chrysler and Jonathan Burckhardt; four grandchildren and three great grandchildren.
Services and interment will be announced at a later date.


Thompson's Harveson & Cole Funeral Home & Crematory
4350 River Oaks Boulevard
Fort Worth, TX 76114
Ph: (817) 336-0345
For your information the link to the TDOB preneed information website is: