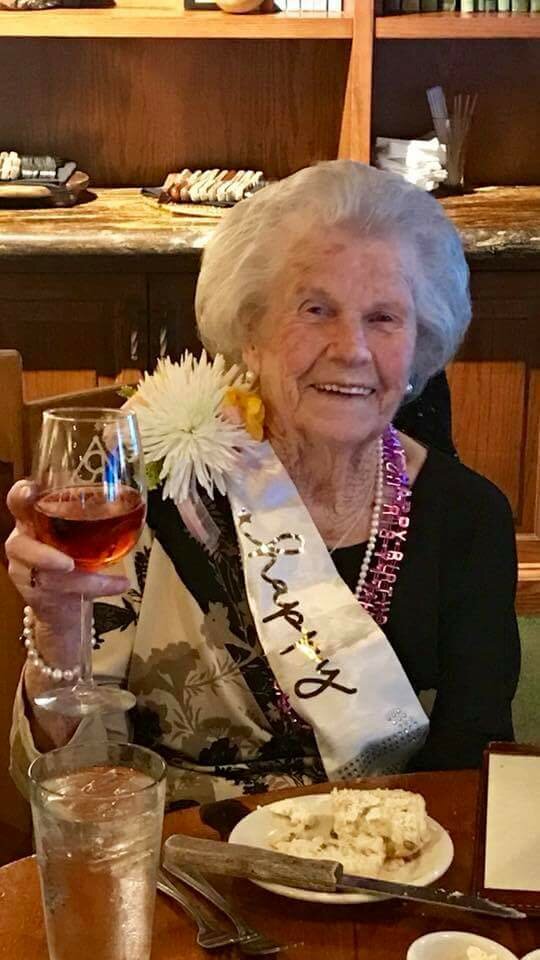 Obituary of Rose Mildred Harvey
Rose Mildred McCans Harvey completed the earthly portion of her 104 year life journey on June 3, 2022. Family members were with her as she made her way to comfort and peace.
Memorial service and celebration of Rose Mildred's life will be 3:00 pm, Sunday, June 12, at Thompson's Harveson & Cole, 4350 River Oaks Blvd.
Those attending are encouraged to bring flowers or plants to share and give to those who would like to have them as a remembrance.
A native of Fort Worth, Rose Mildred spent most of her life in the area. She was the daughter of the late Lindsey Harper and Mildred Blanche (Dobbs) McCans. She remained in her family's neighborhood and completed Polytechnic High School and Texas Wesleyan College, both within walking distance of their home.
While a college student at TWC (now TWU), she met John E. Harvey while both were participating in school theatre activities. They were together in a play that required her to be "completely enthralled." No acting required. She found that she was, and they soon felt that they were meant to be together. They married in 1940 and treasured 41 years of marriage, ended only by John's death in 1982.
With her husband in the printing business with her father, Rose Mildred frequently worked by his side. She often referred to herself by an old English term of Printer's Devil. She enjoyed the reaction that usually resulted and was rightfully proud to identify with a position where the likes of Benjamin Franklin, Walt Whitman and Mark Twain spent their youth.
Rose Mildred was devoted to her family and was very involved in activities with her children during their school years. After years of Assisting the Assistant of a Girl Scout Troop, she still maintained her Girl Scout membership for years. She was always in PTA and a frequent helper on school trips. Long after her children were no longer at home, she loved visits from grown-up kids and their kids, and finally she enjoyed those gatherings with crowds of grandchildren and great-grandchildren and great-great-grandchildren all together for a holiday or birthday.
She was active in church all of her life and many of the friends she and John shared were those they went to church with. Until neighborhoods changed and she even made a move or two, she was active in Poly Baptist Church for years. When one of her moves took her too far away, she migrated to a nearby church which several other women in her apartment complex attended. She always enjoyed a good sermon and singing hymns and even grew used to seeing young preachers in a jacket and tie worn over jeans.
As her own children grew and went off on their own, Rose Mildred was drawn to use teaching skills she had learned many years ago. The "classrooms" she led were in a diverse assortment of locations with an even more diverse population. Some of her students included young offenders who were spending time paying for some bad behavior and young mothers who were determined to learn and give their children a good foundation. She cared for all her students and did not judge where they were or how they got there. Well into years where most were thinking of retirement, Rose Mildred began to establish a reputation as a very reliable and respected substitute teacher. She often was asked to fill in for weeks at a time for teachers who had babies, suffered illnesses or a variety of situations that would keep them out of their classrooms for a lengthy period. Finally, into her eighties and early nineties, she was almost a permanent fixture in Kennedale Junior and Kennedale Senior High School. She was thanked for support and inspiration by the National Honor Society, surprised with 90th birthday breakfast and lunch and once entered school in the morning to be greeted by signs everywhere throughout the high school proclaiming Thank You, Mrs. Harvey Day. The surprise of seeing the signs was followed by an entire day of gifts of fruit, cards and candy from students all over the school.
One of her favorite surprises was in November 2012 when she learned that one of her grandsons wrote in her name for President of the United States in the national election.
Most of her immediate family was close by in Texas, but Rose Mildred also loved traveling to Delaware where she could visit her daughter and New Jersey grandson and wife and great grandsons. She spent some holidays and even birthdays in Delaware. She made many friends there, many who kept in touch with her and some who even traveled to Texas to visit her. Her travels included trips to the Houston area where she had two granddaughters.
In addition to her parents, Rose Mildred was preceded in death by her husband John E. Harvey, her sons John Eric Harvey and Ronald C. Harvey, her grandson Eric Harvey and her brother Barton McCans.
She is survived by her daughter Rosanne Harvey Pack (Kenney Workman), her granddaughters Julianne Harvey Hayworth, whom she raised, (Greg), Casey Harvey, and Jennifer Pack Kimball (Rich) and grandsons John C. Harvey (Louise), and Brendan O'Connor Pack (Sarah), great-granddaughters Amber Neal (Jeff), Marie Harvey, Addison Harvey and Rilee Harvey, great-grandsons Jeremy Hammons, Gabriel Soto Hayworth, Hunter Neal, Parker Neal, Erik Harvey, Jacob Harvey, Brendan Pack Jr., Jackson Pack, Henry Pack and great-great-granddaughters Aneilya, Alayna, Adalea and Elizabeth Hammons and Everly and Raelynn Soto Hayworth. Also surviving her are Linda and Glenn Hayworth, Tasha Hawkins (Ray), Rylan and Grant Hawkins of her son-in-law's family.
Her survivors also include her dear niece Janis McCans Pittman and close friends Terry Howard and Hal Skelton, Pat and JD Hart and Lee Chambliss Holt.
The family would like to thank the Hospice Nurses and nurses and staff of Heritage Trails Nursing and Rehabilitation for their warm caring and professional service.


Thompson's Harveson & Cole Funeral Home & Crematory
4350 River Oaks Boulevard
Fort Worth, TX 76114
Ph: (817) 336-0345
For your information the link to the TDOB preneed information website is: