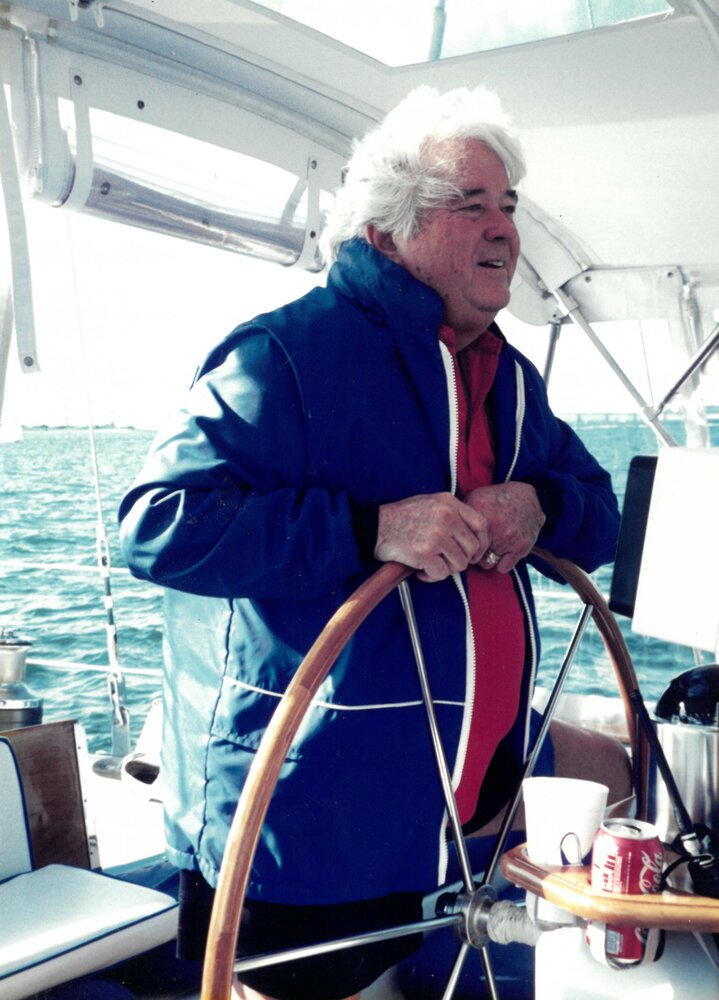 Obituary of James Martin Harrison
James Martin Harrison — Jimmy — died peacefully on the evening of Saturday, June 11, 2022. He was 98 years old. He was preceded in death by his loving wife of 61 years, Marguerite "Punkin" Hoggsett Harrison.
Memorial Service: June 22, 2022, 4 p.m., All Saints Episcopal Church, 5001 Crestline Road, Father Darryl Pigéon officiating. A private burial occurred in the Harrison Family plot at historic Oakwood Cemetery on June 14th.
Born to Margaret "Muggie" Wynne and William Marshall Harrison, Jimmy descended from trailblazing pioneer families in the heart of North Texas.
Jimmy's father, owned one of the first 50 automobiles in Fort Worth, a Stutz Bearcat, and built a gasoline refinery close to where Montgomery Plaza now stands. Through that, he built the first filling station in Fort Worth. This is relevant because Jimmy was an inventor from childhood and took a washing machine motor to build his first car at the age of 12! He would later buy a Model T to transport his children and grandchildren in holiday parades, and truly enjoyed tinkering with one of Ford Motorcars finest models.
His mother hailed from Wills Point, Texas. The 4th child of 9 born to legendary East Texas lawyer, William Benjamin "Buck" Wynne and his wife Margaret Welch Henderson, Muggie proudly shared Wynne Family stories in her book Yet Another Glory, instilling a deep love of family that lasted Jimmy's entire life. The Wynne Family reunites annually, now more than 250 strong, and recently honored Jimmy with the The Glory of the Stars Award, a nod to his mother's book and given for his immense generosity and love of the Wynne Family.
No one lived life more fully than Jimmy. His inventions began as a child living on Tulsa Way. One of his first was a roller coaster in his back yard. He charged neighborhood children one penny, or nine nails, to ride. If he enjoyed your company, the ride ended in a haystack. If you were not on his "favorites" list, the coaster terminated in a duck pond. And, he did not reserve his mischievous inventions just for his neighborhood friends. His father served as an early tester of one of Jimmy's most electrifying inventions. A fan of reading the evening newspaper in his special chair, Daddy Bill discovered that Jimmy created an electric shock to zap his father just as he was turning the page to his favorite section. The shock was operated by Jimmy in the adjoining room, and one can only imagine the clever smirk that came across his face.
Jimmy attended Kemper Military Academy and graduated from Arlington Heights High School. He attended the University of Texas at Austin, but his years as a Longhorn were cut short by his military service in World War II. He served as a radio operator in the Signal Corps in the Army Air Force. He returned and completed his education at Texas A&M (Gig 'Em) on the GI Bill, receiving a Bachelor in English. After graduation, he worked for his father's company, Crown Machine and Tool. Crown pivoted after the war into the burgeoning plastics trade, becoming Crown Plastic Cup Corporation. Jimmy, and the company, contributed many new inventions to the industry, obtaining more than 30 foreign and domestic patents. His best known invention is the polystyrene cup, commonly known as Styrofoam. Years later, he founded Texstyrene Plastics, Inc. and went on to own Pangburn Chocolates, home of the original Texas chocolate, Millionaire$.
Having discovered sailing at the Fort Worth Boat Club, Jimmy was often found on the water. He served as Commodore of the Fort Worth Boat Club and was a member of the New York Yacht Club. He owned several racing and sailing boats — most with cup themed names including Roadie, Taza Grande, and Taza Mas. One of his last boats was New Tricks because he was an old dog. On the boats, Jimmy was the truest version of himself. With the wind in his hair and sails up, he entertained his closest friends and family with colorful jokes, stories, songs about brave mice, tired pigs, and his past career working in a Chicago department store. None of the grandchildren can forget the first and only rule of the competitive game of 99 — always draw a card. He truly loved spending time with his children and grandchildren on his boats. He taught them to sail, to love the freedom of the water, and how to tell a very good joke at the perfect moment; well, sometimes just in the moment.
The Taza Grande spent the summer of 1983 in Newport, RI for the America's Cup. Not only did Australia steal the cup from the Americans, but an Australian stole the heart of one of Jimmy's daughters! Jimmy took the Taza Mas through the Panama Canal four times, traveling to Alaska and exploring the Inward Passage. He also sailed through the Inland Waterway, passing by Quebec, through most of the Great Lakes and ending at Mackinac Island. Often, he was accompanied by Punkin, his sister, Muggye, and many of their dearest friends. When his friends were too old for the boat, he simply got younger friends to come along. The family takes comfort knowing that on his last morning, Jimmy was dreaming he was on his boat, rocking back and forth. We know that Jimmy has sailed on to that one particular harbor, where he's eating a cheeseburger in paradise, alongside those who passed before and that he loved the most.
Jimmy was a member of the Exchange Club, the Fort Worth Club (where he was an original, and possibly the youngest, founder), the Fort Worth Boat Club, the New York Yacht Club and River Crest Country Club. He founded Overton Park National Bank, now Frost Bank, and served on the Board of Trustees. He also served on the Board of Trustees for Cook Children's Fort Worth and the Fort Worth Zoological Association.
The family would also like to extend their deepest and heartiest thanks to Leah Bounds. The family is grateful for his devoted caregivers, Roberta Parenti and Kay Gebretat, and the staff at Trinity Terrace.
In addition to his parents and his wife, he was preceded in death by his sister Margaret "Muggye" Harrison Chilton, his brother William Marshall Harrison, his nephew William Knox Gordon, and his granddaughter Emily Grace Kleinheinz.
Survivors: Son James Martin Harrison, Jr.; daughters Martine "Tina" Harrison Gorski and her husband, Ted, Anna Melissa Harrison Philpott and her husband, Peter, Marsha Harrison Kleinheinz and her husband, John, all of Fort Worth, TX; grandchildren Susanna Gorski Bartolomei and her husband, Harper, James Harrison Gorski and his wife, Tamara, James Martin Harrison III and his wife, Kelly, Michael Colin Philpott and his wife, Elizabeth, Marguerite Kleinheinz Stoner and her husband, Matthew, Wynne Harrison Philpott, and Peter James Philpott all of Fort Worth; Anna Melissa Philpott of Austin, TX; John Burke Kleinheinz, Jr. and his fiancée, Kelly, of Dallas, TX; Margaret Susan Philpott of Nashville, TN; and William Harrison Kleinheinz of New York City, NY; eight great-grandchildren; nephew Howard "Skip" Chilton, Jr. and his wife, Judy of Dallas; nieces Margaret Chilton Owen and her husband, Dan of Dallas; Wynne Chilton Baxter of Colorado Springs, CO; and Marguerite Melissa Gordon of Tesuque, NM.
Memorials: Mr. Harrison's family respectfully suggests that in lieu of flowers, memorial contributions may be made to Cook Children's Health Foundation, The WARM Place, the Tarrant Area Food Bank, or a charity of your choice.


Thompson's Harveson & Cole Funeral Home & Crematory
4350 River Oaks Boulevard
Fort Worth, TX 76114
Ph: (817) 336-0345
For your information the link to the TDOB preneed information website is: