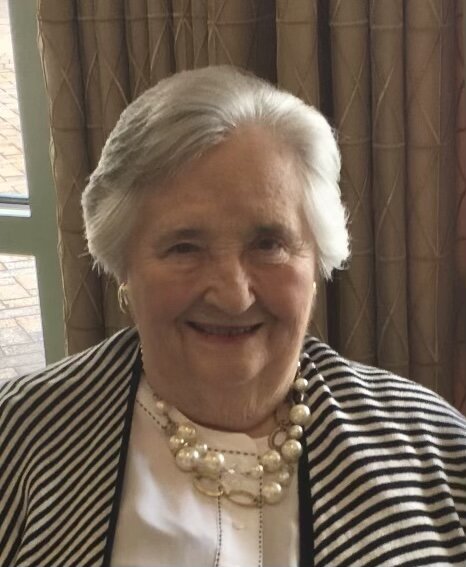 Obituary of Glenna Yvonne McPherson Brigance Allen
Glenna Yvonne McPherson Brigance Allen, 91, passed away July 8, 2022.
Visitation: 5 - 7:00 p.m. Wednesday, July 13, at Thompson's Harveson & Cole Funeral Home.
Funeral: 11:30 a.m. Thursday, July 14, at Thompson's Harveson & Cole Funeral Home.
Interment: 2 p.m. Thursday at Bosley Cemetery, Palo Pinto, County, Texas.
Should friends desire, donations may be made to The Alzheimer's Association North Central Texas Chapter, 2630 West Freeway, Suite 100, Fort Worth, Texas 76102-7100.
She was born January 8, 1931, in Lipan, Texas. She was the daughter of Albert and Verna (Porter) McPherson. Mother grew up on a 175-acre farm in Patillo, Texas. She loved everything about growing up on the farm except the fact that as an only child she did not have anyone to play with. She loved when her cousins Jackie and Jerry would come and visit and many times, I remember her saying they were like her sister and brother. She loved them very much. Even later in life she enjoyed going to the farm as often as she could, and she loved when the entire family would spend time there. It was only after her decline in health over the last 10 years that kept her from continuing to visit the farm.
Mother graduated as the Salutatorian from Santo High School in 1948. She was one of ten in the graduating class. After high school she attended North Texas State University. After a couple of years in college she met our Father, James Ray Brigance, Jr, on a blind date and they married on March 24, 1951. After her college days and while dating Ray, Mother had begun her career as a legal secretary in the oil industry and continued in this capacity her entire working life. When she retired in 1996, she had worked in this field for 45 years. After eleven years of marriage Mother and Daddy had their first child, Amy Elizabeth on May 31, 1962. A little over three years later, September 5, 1965, they had their second child, Martha Jane. Although Mother still worked, she was entirely devoted to us. We used to wonder how she did what she did……………. working full time, having a hot meal on the table every night for supper, doing all the laundry, ironing all the clothes and the list could go on and on. She never missed a beat and we never felt like we missed out on anything because Mother worked. She was one of the hardest working individuals we have ever known but she made us feel like she was a stay-at-home Mother. We were the most important things in her life and some of her most treasured times were spent doing things with and for us. Probably her most favorite thing to do with us was to travel to tennis tournaments. She loved watching us play and was always there cheering us on.
Mother was also one of the best friends you could have. She had so many friends from so many different aspects of her life. She loved watching Dallas and Dynasty with her good friend Hazel that lived down the street, she took trips to Houston to visit her dear friend Faye, our neighbor and dear friend Lynne would come over to visit with Mother while she worked in the yard, and she had numerous friends that she had met in the oil and gas industry that remained friends for her entire life. Mother also always took charge of her high school class reunion every year. It was very important to her that everyone come. She was the glue that kept her classmates together. Mother also made sure every year when we were growing up that we took a family vacation. She wanted to make sure that we got to experience some things that she did not get to when she was growing up. She and our Father took us to the Grand Canyon, the Painted Dessert, the Petrified Forest, to the top of Pikes Peak, The Broadmoor Hotel and Red River, New Mexico over the years.
Another thing that comes to mind when we think of our Mother is she was a wonderful hostess. Her house was the hang out spot for a lot of our friends when we were growing up and she loved it. When I was talking to Greg, a dear friend of mine from TCU about Mother's passing he said that was what he thought of when he thought of Mother. She always welcomed all our friends with open arms. Mother was also a very devoted daughter. Growing up she made sure we went to visit her parents at least every other weekend. She loved her Mother and Father so very much. When our Grandmother was 88 years old, she moved in with Mother and lived with her the last 10 years of her life. Mother was also a caregiver to our Father. Our Father suffered for many, many years with diabetes and ultimately this led to blindness the last 15 years of his life. Mother would come home every day from work to make sure he had his lunch and spent many days taking him to eye doctor appointments in Dallas hoping to save some of his vision.
After our Father passed away in 1995, Mother married William (Bill) Allen in 1996. Mother and Bill had known each other for over 45 years. When Mother and Bill decided to get married Mother retired from her job so she and Bill could travel and spend time doing things together. We were very happy for Mother as she had been very tied down taking care of our Father for a long time. We were so happy she was going to get to enjoy life for a while. Bill brought a lot of joy to Mother's life, and we thank him for giving her some of the happiest times of her life.
Something else that brough a lot of happiness to Mother's life were her two sons-in-law. Don Stanley and Ashley Parrish came into the family in 1997 and 1998, respectively. Both had big appetites, and this was great for mother as she loved to cook and host dinners at her house. Don always looked forward to his homemade pear cake at Christmas. It was a tradition that was started by Mother's mother and was carried on as long as Mother was able to bake. Mother loved whenever she would get together with Ashley as he would make her one of her favorite martinis and she was quite happy!
Another thing that brought Mother a lot of joy was when she became a Grandmother or "Gran" as she was affectionately called. Emily Mae Parrish was born on December 3, 2000. Mother had waited a long time for her first grandchild and Emily was quite special to her. I will never forget the day Martha and Ashley left the hospital to go home with Emily after she was born. It was a bitter cold day and Mother made it very clear that she was worried that Emily would freeze to death. After all Mother was an old pro! But she was not done quite yet with some surprises. On March 8, 2006, John Keeton Parrish came into this world. A boy at that! This was the first boy in the family, but you never would have known it as far as Mother was concerned. She welcomed the little guy into her heart and loved him dearly. We had some great times when Mother and Bill lived in Granbury. These were wonderful years for Mother and the grandchildren. They would pick up pecans, drive the golf cart and eat watermelon with Gran and Granddad.
Mother was a long-time member of The Church of Christ. She attended Santo Church of Christ, Sunset Church of Christ, Alta Mesa Church of Christ and Como Church of Christ over the years. She was also a member of Desk and Derrick and The Fort Worth Woman's Club.
Preceded in death by first husband, James Ray Brigance, Jr and parents Albert McPherson and Verna (Porter) McPherson.
Survivors: Husband, William (Bill) Allen; Amy Brigance Stanley and husband, Don; Martha Brigance Parrish and husband, Ashley; Grandchildren, Emily Mae Parrish and John Keeton Parrish; Stepdaughters, Pam Harrington; Rebecca Lunn and husband, Greg; and Barbara Stensrud and husband, Bill. Mother's very dear friend, Nancy Ballinger that visited her six days a week for the last eleven years. Special Thanks to all the Second Floor Staff at Trinity Terrace, i.e., nurses, aids and everyone that touched Mother's life in a positive way for such a long time. We would like to thank Dr. Love for her kindness and care. We would also like to thank RN, Dede from Three Oaks Hospice and the continuous care nurses Lisa and Wesley that were with Mother at the end of her life.


Thompson's Harveson & Cole Funeral Home & Crematory
4350 River Oaks Boulevard
Fort Worth, TX 76114
Ph: (817) 336-0345
For your information the link to the TDOB preneed information website is: