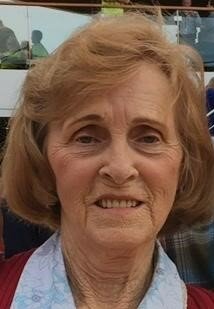 Obituary of Georgia Ann Wilson Pitts
Fort Worth, Texas - Georgia Ann Pitts, 80, passed away quietly surrounded by loved ones at her home on July 19, 2022.

She was born February, 14, 1942, to George and Vitura Wilson in Shreveport, La. At age 17 she flew to New York, boarded the old Queen Mary and sailed to France to marry fiance, Jim Pitts. They married October 16, 1959, and lived in the Normandy town of Evreux, 60 miles from Paris, an era Georgia fondly called "our four-year French honeymoon."
Though Jim was assigned to a nearby Air Force base, they lived in town in a two-room, $40 apartment built in the late 1600s. They made friends among their French neighbors and traveled over much of belle France in a used Renault Dauphine. Georgia read French history and became the family guide while Jim studied French and ordered dinner... back when the tab for a dozen escargots was about a dollar. Daughter Chantel joined their travels after her arrival in 1961.
France was the beginning of a lifelong odyssey that took them to many countries throughout the world. They later lived in Australia, where Jim worked for Exxon. During their 62-plus years together they transited the Panama and Suez canals, went around the world once, visited all 50 U.S. states and drove coast-to-coast across Canada.
Thus they have friends on four continents and relatives in Scotland and England.
As Georgia and Jim were passing through Fort Worth, son Patrick arrived in 1965 on his mom's birthday, February 14. His twin sons Michael and Jordan were also born on Valentine's Day, always the occasion of a grand four-way birthday party.
Of all their worldly travels, Georgia cherished most their long summer drives in the U.S. with granddaughter Amy, twin grandsons Michael and Jordan and later with great-granddaughter Diana. One summer they visited eight national parks with the twins.
Then there were several tours of Ireland, England and Scotland with various grandchildren.
Georgia is survived by husband Jim; son Patrick and wife Lorrie; granddaughter Amy Milberger and great-granddaughter Diana Milberger; grandson Michael Pitts and wife Lyssa, great-granddaughters Kaira and Elara Pitts; grandson Jordan Pitts and wife Catherine; sister Dollie Addington; niece Dannell Thigpen and husband Bobbie; niece Erin Pitts Alexander; brother-in-law John Pitts; nephew Sean Pitts; brother-in-law Tom Pitts and wife Shirley; dear family friends Chris and Melody Garcia.
She was predeceased by daughter Chantel Marie McMurrey; sister Tommie Moseley and husband Dan; nephews Dan and David Moseley; nephews Troy and Bobbie Addington, nephew Kevin Pitts.
A memorial gathering will be announced later.


Thompson's Harveson & Cole Funeral Home & Crematory
4350 River Oaks Boulevard
Fort Worth, TX 76114
Ph: (817) 336-0345
For your information the link to the TDOB preneed information website is: