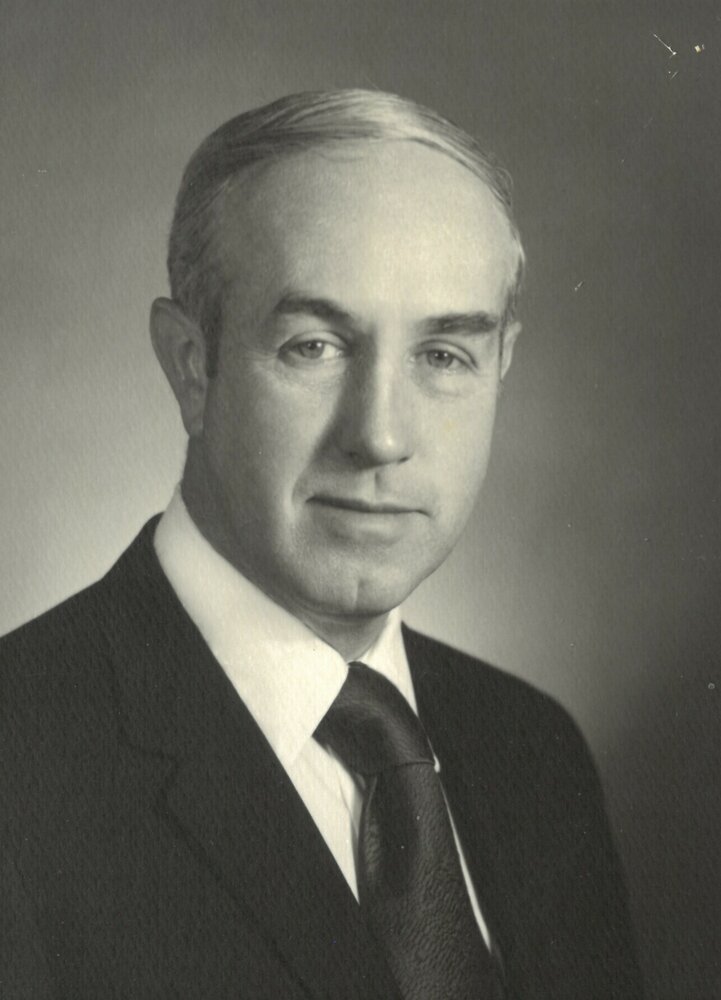 Obituary of William Martin Murphy
William Martin Murphy, 92, died peacefully at home on July 23, 2022.
Rosary: 3 p.m. Sunday, July 31, 2022 at Thompson's Harveson & Cole with a reception following until 5:30 p.m. Mass of Christian Burial: 10 a.m. Monday, August 1, 2022 at St. Patrick Cathedral. Interment will follow at Mount Olivet Cemetery.
Memorials: In lieu of flowers, please consider donations to Catholic Charities of Fort Worth.
Mr. Murphy was born in Jeanette, Penn., on June 3, 1930. He graduated from Duquesne University in 1952. After graduation, he was commissioned in the Air Force as a lieutenant and stationed at Mineral Wells Air Force Base. There, he met the love of his life, hometown girl Martha Marie Belcher. The two married in November 1953 and raised nine children.
After his honorable discharge from the Air Force, Mr. Murphy attended law school at the Georgetown University Law Center. Upon graduating in 1957, he moved his young family to Fort Worth. As a Catholic and a Yankee, he struggled to find meaningful employment as a lawyer in Fort Worth's tight-knit legal community in the first few years of his career. He eventually joined the Law Offices of John Crumley (later Crumley, Murphy & Shrull and Murphy, Moore & Griffith), where he practiced law for the rest of his career. In 1979, he was elected president of the Tarrant County Bar Association—the first Yankee elected to that office. His practice focused on civil trials, and he was well known for his skill in the courtroom. He served on the boards of many charitable organizations, including St. Joseph Hospital and the school board for the Diocese of Fort Worth.
In 1984, through the grace of God, Mr. Murphy found sobriety. He was thereafter a dedicated participant in Alcoholics Anonymous. As an AA sponsor, he helped many others, especially fellow lawyers, find sobriety. He counted his work in AA among the most significant of his life.
Mr. Murphy was known for his sharp Irish wit and humor. He was a teacher and mentor to his children and grandchildren and to many young lawyers. When he and Martha moved to Fort Worth, they eventually settled on five wildly overgrown acres in southwest Tarrant County, which he transformed through years of hard labor into a parklike setting. His children remember endless weekend "recreation" of cutting, hauling, and burning the neverending brush. His favorite hobby was following the stock market, and he excelled at picking stocks. He made his last stock trades just a few days before his death, despite being unable to walk or talk. When he retired from his law practice, he and Martha spent their summers at a getaway house in the cool pines of Ruidoso, New Mexico, which he recently described as his favorite place on earth.
Mr. Murphy was preceded in death by Martha, his wife of 59 years; his siblings Margaret, Charles, and Tom Murphy; and his son-in-law Dr. Mark Lowery. He is survived by his children Madeleine Lowery; Amy Rubano and husband, Mike; Suzanna Meyer and husband, Matthew; Patricia Platt and husband, Michael; Dr. Maureen Benschoter and husband, Brian; Sheila Sumner and husband, Stuart; John Murphy and wife, Jeanne; Robert Murphy and wife, Debra Baxter; and Sarah Cordell and husband, John; 39 grandchildren; and 12 great-grandchildren.


Thompson's Harveson & Cole Funeral Home & Crematory
4350 River Oaks Boulevard
Fort Worth, TX 76114
Ph: (817) 336-0345
For your information the link to the TDOB preneed information website is: