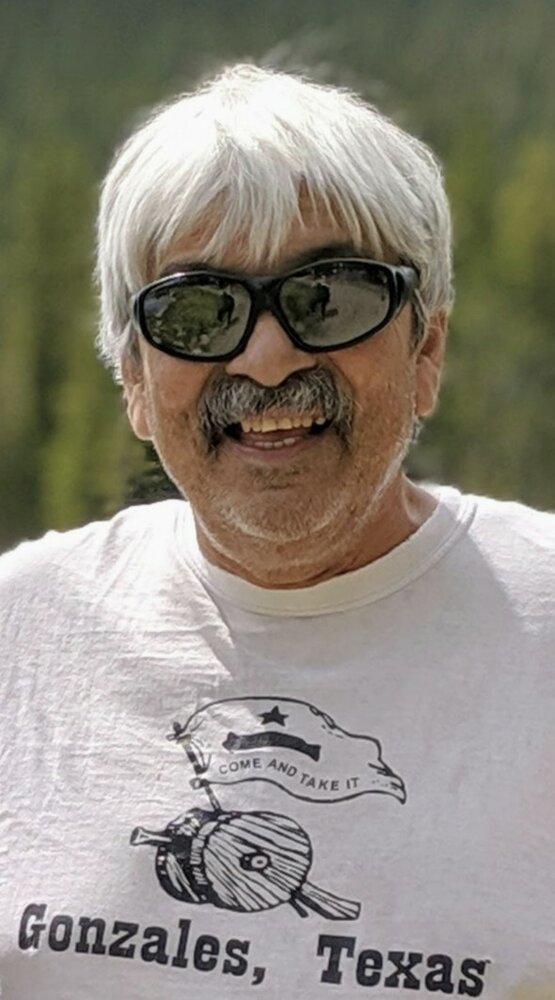 Share Your Memory of
Jerry


Obituary of Jerry Thomas Gonzales
Jerry Thomas Gonzales died at home on Monday July 25, 2022. He was 69 years young.
Visitation beginning at 10:00 a.m. with a Memorial Service at 11:00 a.m. on Saturday, August 20, 2022 at Thompson's Harveson & Cole Funeral Home.
Memorials: In lieu of flowers, the family asks you make a donation to NICU Helping Hands (click here )
Jerry was born in Fort Worth, Texas on Tuesday September 23, 1952 to John Rosa Gonzales Sr. and Juanita Jean Cisneros Gonzales. Jerry was the tenth of eleven Gonzales children. He attended St. Patrick's & St. Mary's for grade school, Daggett Middle and graduated from Trimble Tech High School in 1970.
Jerry's work ethic was bar none and developed at a young age; his first job was selling food and snacks in Leonard's Department Store circa 1967. As a young adult he started working at Sears Roebuck & Co. in logistics and worked there for a few decades. His mind was wired for logistics and he became a human Mapsco. You could rattle off any address in Tarrant County and he could tell you the Mapsco coordinates then give you turn by turn directions without ever cracking the book. He heckled modern day GPS devices every time they recalculated a route. In 2011 he started working at O'Reilly's Auto Parts (Store #556) in the commercial department to "kill some time". In truth he was after the paychecks which served but one purpose - they allowed him to spoil his three grandchildren. His time at O'Reilly's turned into much more than delivering auto parts to shops in south Fort Worth - he mentored younger, newer commercial employees in the only way he knew how - equal parts sarcasm, silence and common sense. Shop owners and mechanics throughout south Fort Worth will rest easier on Monday mornings during the fall as Jerry won't be there to harp on yet another Cowboy's loss. Jerry's family is forever grateful for his manager, Angel Medina, who worked alongside Jerry all 11 years and "endured" his antics in the workplace.
Jerry lived his life wholly in south Fort Worth and his neighbors became family over the four decades they spent together. Jerry had a special relationship with neighbors James and Carmen Garza and their son, Maddox. He was a father, yelling "motivational" quips from his porch and driveway. He was a brother, always playing a practical joke or teasing. He was a friend, always there to help out with a diy project. "Open Door Sundays" will never be the same.
Jerry's children have memories and stories to fill volumes so summarizing in an obituary is impossible. What remains at the forefront of their memories….his "tell it like it is" approach to life and people, his obsession with March Madness, his distrust of technology, his love of classic rock especially Pink Floyd, his devotion to TCU football and his wicked, sometimes biting, sense of humor. He loved feeding others; his favorite wig splitting joint, co-workers and family can attest. Jerry was known for a killer homemade salsa which came in two heat levels "Sissified" or "Not". He was a man rooted in simplicity, frugality, steadfastness. He supported his children and grandchildren in their endeavors, small and large. His greatest joys, by far, were his grandkids - Landon, Gordon and Winifred. He's known as Papo to these babies; he wanted nothing more than to do for them and be around them - family was everything to him. He never missed a Thursday with his GoGo and Baby Winnie or an opportunity to see his Lil Buddha. "Dad never left us. We just won't see him anymore."
Jerry was preceded in death by his parents, John Rosa and Juanita Jean Gonzales, brothers Jimmy, John, Joe and Ronald, sisters Dolores "Cookie" Abbas and Juanita Zinn. Jerry is survived by his daughter Angela Gonzales, grandson Landon Gallaway, son Adam Gonzales and wife Melissa, grandson Gordon and granddaughter Winifred, sisters Marie Lucker, Linda Goodman, and Claudette "Sue" DeCasper and brother Larry Gonzales along with many nieces, nephews and cousins all of whom he loved.
Visitation:
10:00 am - 11:00 am
Saturday, August 20, 2022
Thompson's Harveson & Cole
4350 River Oaks Blvd
Fort Worth, Texas, United States

Get Directions
Memorial Service:
11:00 am - 11:30 am
Saturday, August 20, 2022
Thompson's Harveson & Cole
4350 River Oaks Blvd
Fort Worth, Texas, United States

Get Directions
Thompson's Harveson & Cole Funeral Home & Crematory
4350 River Oaks Boulevard
Fort Worth, TX 76114
Ph: (817) 336-0345
For your information the link to the TDOB preneed information website is: