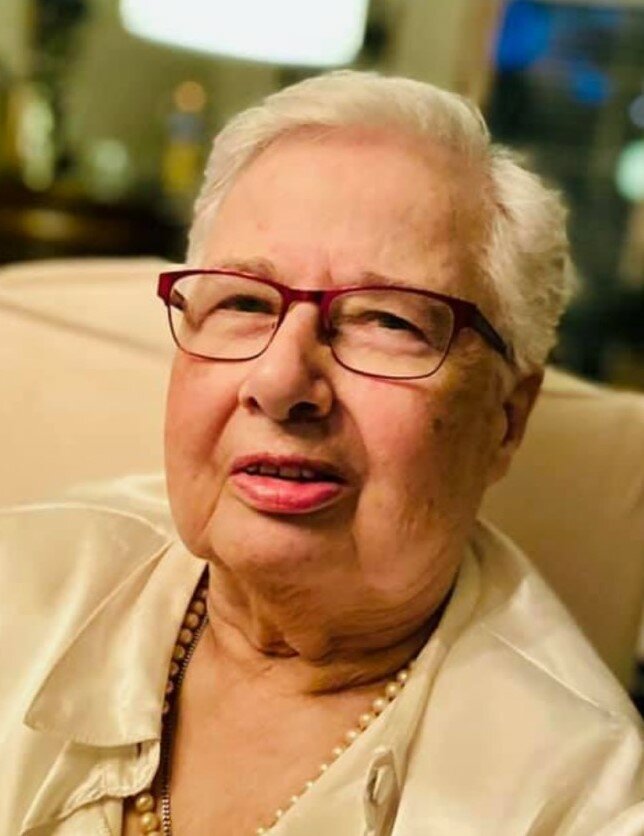 Obituary of Judith Marie Ogle
Judith Marie Phillips Ogle (Judy), loving wife and beloved mother, passed away at the age of 84 on Sunday, August 21, 2022.
Services include Visitation: 5:00 - 6:30 p.m. Friday with a Rosary at 6:30 p.m. Friday, August 26, 2022 at Thompson's Harveson & Cole Funeral Home, 4350 River Oaks Blvd.
Mass of Christian Burial: 1:00 p.m. on Saturday, August 27, 2022 at the Saint Andrews Catholic Church, 3312 Dryden Rd, Fort Worth. Burial will follow at Mount Olivet Cemetery.
Memorial donations in lieu of flowers may be given to St. Jude Children's Hospital ((www.stjude.org )
Judy was born on July 15, 1938, in Gary, Indiana to Walter and Doris Phillips. She was a registered nurse and worked at All Saints Hospital in Fort Worth in the neonatal and labor and delivery units. On April 15, 1964 she married Arthur Ogle. They raised three sons, Daniel, Jack, and Nick, and two daughters, Dolly and Carolyn.
Judy was a loving, kind woman with a passion for family. Judy was a devout Catholic, member of St Andrew Catholic Church. Judy enjoyed sewing and was a tremendous caretaker extraordinaire for her many children, grandchildren, and lover of all things Texas Rangers. She was known for her caregiving and nurturing spirit to many.
Judith was preceded in death by her father Walter, her mother Doris, brothers Gerald and Lawrence, and sister Carolyn Elizabeth.
She is survived by her husband, Arthur; her five children, Daniel, Dolly, Nick and spouse Nina, Jack and spouse, Tamara, and Carolyn and spouse, Mark Magilley; her sisters, Patricia and Barbara; and her fourteen grandchildren, Joseph,Tierni, Andrew, Megan, Hillary, Austin, Samantha, Sydney, Luke, Nick, Jack, Nate, Emma and Erik. Judith also has 6 great grandchildren and several loving nephews and nieces.


Thompson's Harveson & Cole Funeral Home & Crematory
4350 River Oaks Boulevard
Fort Worth, TX 76114
Ph: (817) 336-0345
For your information the link to the TDOB preneed information website is: