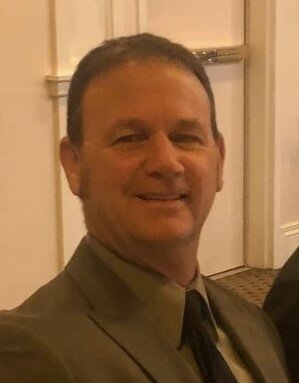 Share Your Memory of
Patrick


Obituary of Patrick Ray Pitts
Patrick Ray Pitts, 57, passed away after a brief illness on November 15, 2022.
A Valentine baby, he was born at Fort Worth's Carswell Air Force Base to Jim and Georgia Ann Pitts on February 14, 1965, his mother's birthday. He went to schools in Houston and in Sydney, Australia, where his parents lived for several years.
Later, after moving to Fort Worth, Patrick set up his own business before joining The Home Depot, where he worked for the last 25 years. In 1994, he married Lorrie Jones. Twin sons Michael and Jordan Pitts were also born on Valentine's Day (always the occasion for a four-way birthday party with dad Patrick and grandmother Georgia).
Patrick was a good provider and loved spending time with his family, lately entertaining cherished granddaughters Kairi and Elara at the zoo, parks and playgrounds on weekends with wife Lorrie. He enjoyed music and made acoustic guitars as well as professional-grade furniture in his well-equipped woodworking shop. Friendly and outgoing with a live-and-let-live personality, Patrick had many friends who liked his easy humor and crafty wit. Some also turned to him in troubled moments for his practical, no-nonsense advice and counsel.
Patrick is survived by wife Lorrie; sons Michael (Lyssa), Jordan (Catherine); granddaughters Kairi and Elara Pitts; father Jim Pitts; uncles Tom Pitts, John Pitts; mother-in-law Barbara Jones Spoonts; father-in-law Billy Jones. He was preceded in death by his mom Georgia; younger sister Chantel Marie McMurrey; grandparents Oran and Josephine Pitts.
A memorial gathering will be announced later.
Thompson's Harveson & Cole Funeral Home & Crematory
4350 River Oaks Boulevard
Fort Worth, TX 76114
Ph: (817) 336-0345
For your information the link to the TDOB preneed information website is: