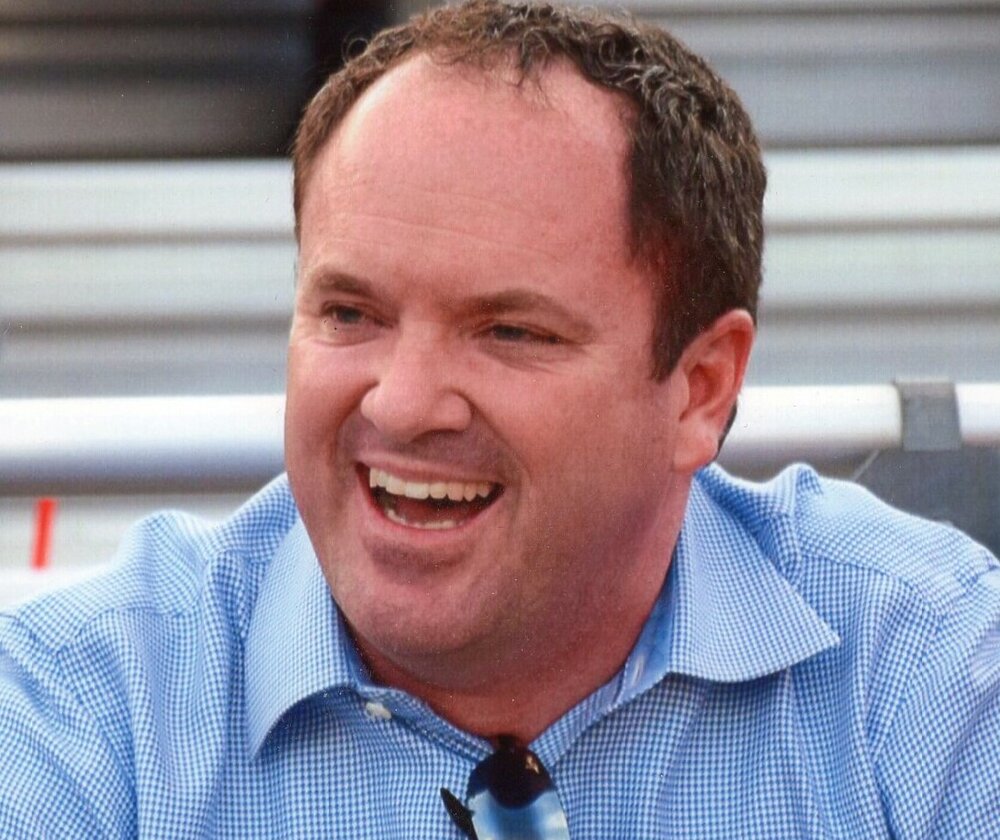 Share Your Memory of
Collin


Obituary of Collin Hadley
Collin Crane Hadley, dearly loved husband, father, son, brother, uncle and cherished friend, died peacefully at home on November 25, 2022, after a valiant 8-year battle with amyotrophic lateral sclerosis (ALS). After Collin's ALS diagnosis in 2014, he wholeheartedly embraced the mindset of "Don't count the days, make the days count" and faced ALS with the same tenacity of spirit that defined every chapter of his life, inspiring countless loved ones and friends with his example of strength and grace.
Collin was born on September 7, 1973, in Pocatello, Idaho where he resided for nine years. He also lived in Utah and Nebraska during his childhood before settling in Palestine, TX for high school where he met his future wife, Emily Kenderdine. He graduated from Palestine High School in 1991. Collin attended Texas A&M where he earned a Bachelor of Science in biomedical science in 1996 and became an avid fan of the Aggies. After graduation, Collin began a successful career in pharmaceuticals. Throughout his over twenty-year tenure at leading companies including TAP Pharmaceuticals, Abbott Laboratories, Smith & Nephew and DaVita, Collin was consistently recognized as a top performer and an exceptional leader with a talent for building high-performing teams and strong cultures. Collin's work ethic was second to none and he fully embraced the "work hard, play hard" mentality enjoying the many adventures that work provided him including trips around the globe and the opportunity to show off his great sense of humor and jaw-dropping dance moves during the many sales meeting skits that he choreographed over the years! Collin later obtained his executive MBA from Texas Christian University.
Outside of work, Collin was an active member of First Presbyterian Church of Fort Worth and drew inspiration and support from his friends in the Growing Families of Faith class. Collin loved the great outdoors, especially the mountains, and particularly enjoyed fly fishing and hunting. In addition to his hobbies, Collin was a relentless advocate for people living with ALS and their families. He dedicated many hours to raising awareness of gaps in support for patients and caregivers in the hopes of creating an easier path for other people who would also have to navigate this difficult journey.
Aside from working and spending time with his family, Collin's favorite pastime was enjoying sporting activities either as a talented participant or an enthusiastic fan. Although Collin loved all sports, playing baseball was his passion. Collin loved every aspect of the game but the one thing that would really drive him crazy is for a batter to strike out without swinging. When ALS threw Collin the biggest curveball of his life, he adopted the nickname, Curveball Hadley, and stepped up to each new challenge with the courage and confidence to know he would not go down without swinging. As Lou Gehrig said, "I might have had a tough break, but I have an awful lot to live for." Collin knew he had an awful lot to live for too and following his diagnosis he and his family committed to making a lifetime of memories together while time still allowed. In the first few years following Collin's diagnosis, they embarked on a robust travel schedule of 21 trips together culminating with an Alaskan cruise which was the last remaining state to fulfill Collin's pledge to visit all 50!
Once travel became too difficult, Collin filled his days with thoughtful acts of kindness to others including composing videos of special occasions for family and friends, spending countless hours perfecting recipes with his Dad and teaching his children, Connor and Maddie, how to cook on the Big Green Egg. He enjoyed his time at home and found joy in the company of his faithful canine companion, Boston. The inseparable bond between Collin and Boston truly exemplified the meaning of man's best friend.
His true labor of love over the past several years was writing a book of stories and lessons learned from his life as a gift for Connor and Maddie. In typical Collin fashion, despite no longer being able to use his fingers, he patiently crafted these stories using his eyes to type the words and was proud to have completed his collection of stories earlier this Fall. Connor and Maddie were Collin's constant source of inspiration. He was grateful for every milestone he was able to share with them. They filled his heart with love and pride and there is no doubt being their Dad was his proudest achievement.
While the challenges associated with fighting ALS increased every day, Collin remained undeterred with his ever present, positive, and compassionate attitude. His indomitable spirit and humility inspired all. Always more concerned about how his family and friends were doing rather than himself, Collin's kindness and benevolence comforted the souls of the many who loved him. Throughout it all, Collin's love for his family and deep faith sustained and comforted him. He was exceptional in every way and will be deeply missed.
Collin is survived by his loving wife of 23 years, Emily and their two children, Connor and Maddie; his father Clark Hadley; his mother Jan Boutsikaris and her husband John; his sister Jennifer Malone, her husband Matt and children Tristan and Lauren; his sister Macenzie Granger, her husband Beau and children Hadley and Zoey.
The family would like to extend special appreciation to those who have been on this journey with us. Please know your actions, words, and prayers have given us tremendous comfort and strength and we are forever grateful.
A memorial service will be held on Friday, December 16 at 2:00 pm in the sanctuary of First Presbyterian Church Fort Worth, with a reception to follow the service.
In lieu of flowers, please consider contributions to the ALS Therapy Development Institute (ALS TDI) @ fundraise.als.net/collinhadley or the Memorial Fund (Collin Hadley), First Presbyterian Church, 1000 Penn St., Fort Worth, TX 76102 @ https://www.fpcfw.org/give/online-giving/.
Thompson's Harveson & Cole Funeral Home & Crematory
4350 River Oaks Boulevard
Fort Worth, TX 76114
Ph: (817) 336-0345
For your information the link to the TDOB preneed information website is: