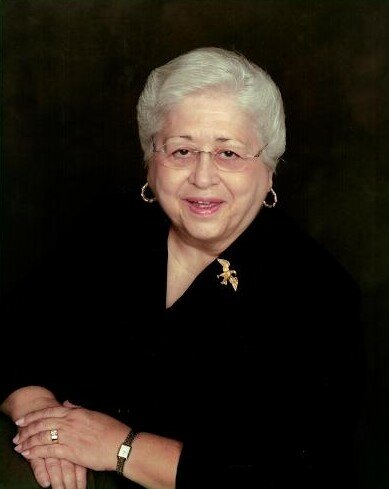 Obituary of Mary Ann Adcock
Mary Ann Adcock, 86, of Haltom City passed away Monday, December 5, 2022 in Fort Worth.
Mass of Christian Burial: 11 a.m. Saturday, December 10, 2022 at St. Thomas Aquinas Catholic Church, 400 St Thomas Aquinas Ave., Pilot Point, TX 76258. Interment: St. Thomas Aquinas Cemetery.
Visitation: 5 to 7 p.m. with a Rosary beginning at 5 p.m. on Friday, December 9, 2022 at Thompson's Harveson & Cole Funeral Home, 4350 River Oaks Blvd, River Oaks, TX 76114.
Mary Ann was born August 30, 1936 to Anton "Tony" and Christine Nortman. She graduated from Pilot Point High School in 1954 where she met Kenneth Adcock. They were married at St. Thomas Aquinas Catholic Church on January 7, 1956 and had one daughter, Kristi Kay, in October 1959.
Mary Ann began working as a teller in 1954 at North Fort Worth Bank in the historic Stockyards district. She ended her banking career as Vice President at State Bank of East Fort Worth. Even though Mary Ann was the valedictorian of her high school class, attending college was not a possibility. However, she proudly graduated from the SMU Graduate School of Banking in 1978. Mary Ann also served as President of Catholic Life Branch 113 from 1993 to 2021. As Branch President, she spearheaded many donations to Tarrant Area Food Bank, bringing Mother's Day celebrations to nursing home residents, and presenting U.S. and Texas flags to many area schools.
Mary Ann and Kenneth enjoyed traveling the world before building their dream home on the Sanger side of Lake Ray Roberts. They hosted many family and treasured friends over the years, fostering relationships and traditions that span generations. As the eldest of six sisters and three brothers, Mary Ann loved to bring everyone together and could always be relied on for a laugh. She relished a good game of cards and a sunny day at the horse track.
Mary Ann was preceded in death by her husband of 57 years, Kenneth; parents, Tony and Christine Nortman; sisters Janice Holley and Phyllis Billmeier; and brothers Dennis Nortman, LeeRoy Nortman and Charlie Nortman.
Mary Ann is survived by her daughter, Kristi Kay Trampe and husband, David; granddaughters Erin Stiggins and husband, Todd, and Meagan Trampe; great-grandchildren, Wyatt Stiggins, Kaytlen Stiggins and Grady Stiggins; sisters, Mildred Burt, Doris Short and Della Turner (Bob Middlebrooks); sisters-in-law, Micky Nortman, Fay Nortman, Pat Faught and husband, Weldon, and Sandra Adams and husband, James; and numerous nieces, nephews and extended family.
Memorial Gifts in her memory may be made to the Sisters of St. Mary of Namur, 909 W. Shaw St., Fort Worth, Texas 76110, or email sisters@sswmnwestern.org.


Thompson's Harveson & Cole Funeral Home & Crematory
4350 River Oaks Boulevard
Fort Worth, TX 76114
Ph: (817) 336-0345
For your information the link to the TDOB preneed information website is: