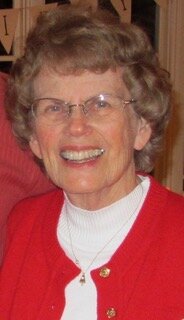 Obituary of Patricia Ann Austin Jensen
Patricia Ann Austin Jensen passed away December 8, 2022 in Fort Worth, Texas of natural causes at age 93.
Mass of Christian Burial: 10:00 a.m. Thursday, December 15 at St. Andrew Catholic Church, 3312 Dryden Avenue, Fort Worth, Texas 76109, with live streaming at standrewcc.org. Fr. Arthur Roraff will be the celebrant. Interment will be scheduled at a future date in Amarillo.
Pat was born in Hooker, Oklahoma on April 3, 1929 to Lowell Winfield Austin and Agnes Regina Brinkman, her father a descendent of early Texas settlers in Parker and Wise County, and her mother a new arrival to St. Francis in the Panhandle. She grew up in Amarillo, Texas and Kingman, Kansas and graduated from Marymount College in Kansas. She then taught seventh and eighth grade English for several years in oil boom town Hobbs, New Mexico before getting a master's degree at the University of Colorado. There at a Newman Club dance she met her future husband, Dick, a Navy veteran and native of New York City. She was attracted to his gregarious manner and colorful stories; he was drawn to her intelligence and devotion to family. When she was recruited to teach in White Plains, New York, Dick followed and they married soon after. After several years they moved to Houston, Texas and later had three children while living in Wichita, Kansas and Richardson, Texas, then staying for almost 30 years in Spring, Texas where she taught English at a community college, before moving to Fort Worth in 2005 to be near family.
Pat was a teacher at heart, believing not just in the importance of education but in the central role it should play in life. She was meticulous in her speech and was always looking up facts in the encyclopedia. She also firmly believed that a good education was not a privilege for some but something that could and should be attained by everyone. Family was at the heart of her life, talking with her children at dinner every night, traveling to visit relatives every summer, and later gathering for dinners and vacations with her children and grandchildren. Her faith was quiet but strong, seldom expressed directly but at the heart of her life and the foundation of all she did.
She is survived by her children, Patricia J. Grindereng and Richard Jensen; daughters-in-law, Tammy Jensen and Sandra Jensen; grandchildren and their spouses, Mary and Daniel Brezik, Christopher and Dimple Grindereng, Elizabeth and Timothy Becker, Meg Grindereng and Noah Hahn, Sarah and Michael Kelly, Katherine and Cole Hammer, Anne Jensen, Magdalene Jensen, and Emma Jensen; and great-grandchildren, Katie Beth, Nora, Nate, Emily, Calum, Jack, and Claire. She is preceded in death by her husband, Dick, her son David, and her granddaughter, Eileen.
Her family is deeply grateful for the care and dedication of Ricondria (Rico) Ferrell and David Worshum, who attended not just to her physical needs, but freely gave of themselves as devoted companions.


Thompson's Harveson & Cole Funeral Home & Crematory
4350 River Oaks Boulevard
Fort Worth, TX 76114
Ph: (817) 336-0345
For your information the link to the TDOB preneed information website is: