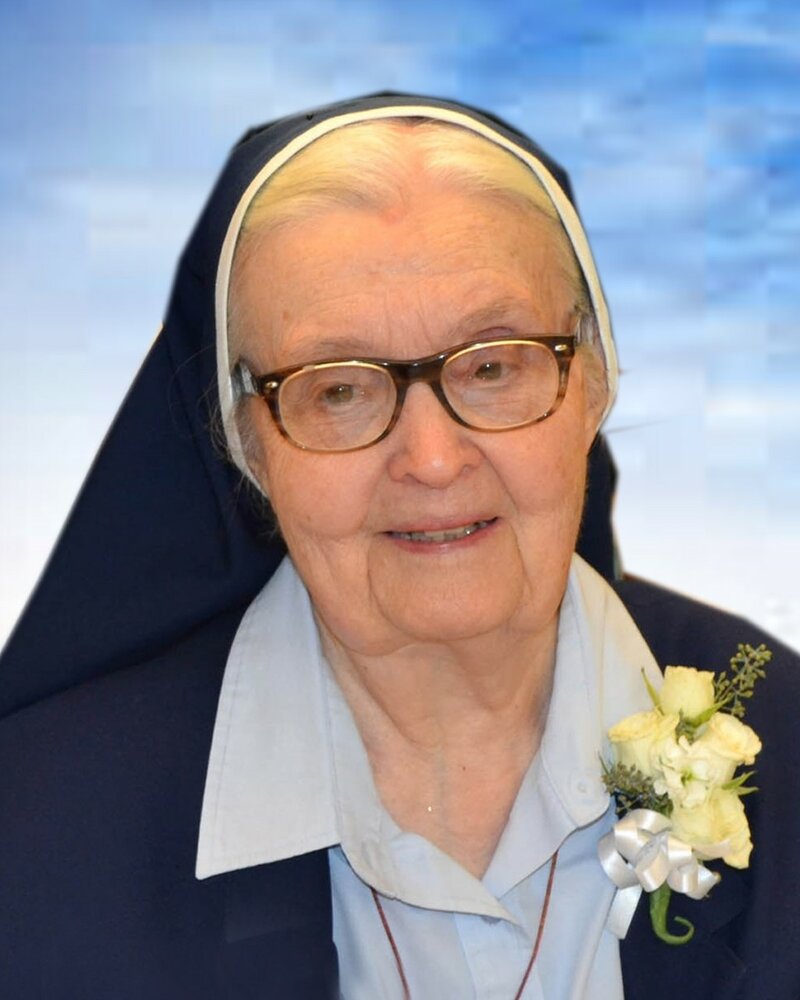 Obituary of Sr. Mary Michael Dittoe
Sister Mary Michael Dittoe 1923 –2022
Sister Mary Michael was born in Dallas,TX, in 1923, but lived in Wichita Falls, and attended the Academy of Mary Immaculate there for three years. After the death of her mother, she became a boarder at St. Joseph Academy in Sherman, where her aunt, Sr. Marguerita Dittoe, taught. Following her graduation, Sister entered the Sisters of St. Mary, following three aunts into the Congregation: Sister Marguerita, Sister Florence, and Sister Marie Vincentia Dittoe. When she celebrated 80 years as a religious, Sister Mary Michael could say that counting her years as a boarder, she had "lived in the convent" for 88 years! That's a record!
Sister Mary Michael had many talents. She spent some 40 years teaching elementary school classes: at Holy Name School in Ft. Worth for two years, St. Xavier Academy in Denison for three, St. Anne School in Beaumont for six, St. Cecilia School in Dallas for two, Resurrection School in Houston for two, and OLV Elementary School for seven years. Wherever she was assigned, Sister also taught piano and classroom singing, having obtained a B.M.Ed. at the American Conservatory in Chicago.
After the Vatican Council, many sisters were called to work in new venues. Sister Mary Michael spent a year at Magnificat House in Houston, helping to create communities for homeless people. From 1993 to 2005, Sister worked in pastoral ministry in Knox City and Crowell with her great friends Sr. Rita Claire and Sr. Ann Vincent, doing catechetical instruction, teaching English as a Second Language, directing the choir, and playing the organ for liturgical services in the parish.
Even after macular degeneration curtailed her activities, Sister took classes at TCC and added knitting to her list of accomplishments, thanks to the Senior Education Department's provision of magnifying equipment. When she could no longer knit, she spent her time, as she laughingly said, with "lots of praying."
She very much enjoyed visits with her cousin, Mary Dittoe Kelley, who often drops by OLV Center with baked gifts including her specialty of delicious brownies.
God called her home to heaven on Our Lady's feast, Dec. 8, with the Sisters praying and singing in the hallway outside her room.

Rosary and Mass of Christian Burial will be private at Our Lady of Victory Center.
Friends are invited to the Graveside Service at 11:30 a.m. on Wednesday, December 21, 2022 at Mount Olivet Cemetery.
Memorials in lieu of flowers may be given to the Sisters of St. Mary of Namur, 909 W. Shaw Street, Fort Worth, Texas 76110.


Thompson's Harveson & Cole Funeral Home & Crematory
4350 River Oaks Boulevard
Fort Worth, TX 76114
Ph: (817) 336-0345
For your information the link to the TDOB preneed information website is: