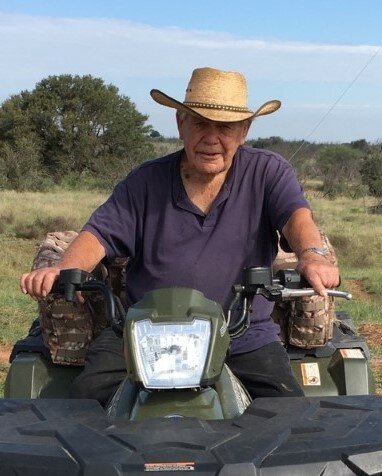 Share Your Memory of
Andrew


Obituary of Andrew James Uptmore
Andrew James Uptmore, 94, loving husband, father, grandfather and great-grandfather, went to the Lord after a brief hospital stay surrounded by family, Tuesday, December 20, 2022.
Mass of Christian Burial: 10:00 a.m. Saturday, December 24, 2022 at St. Stephen Catholic Church, 1802 Bethel Road, Weatherford, Texas.
Interment: 1:00 p.m. Saturday, December 24, 2022 in St. Martin Cemetery, Tours, Texas.
Andrew was known by many names, Smokey to his co-workers, Butch to family and friends. Andrew was born April 27, 1928 to Louis and Mary Uptmore in Tours, Texas. Married Bitha Christine Baker on Dec. 10, 1950. Andrew retired from Howell Instruments. Andrew served his country in the Air force. He was an active member at St. Paul's Catholic Church before moving to Weatherford and attended St. Stephens. Andrew enjoyed gardening, fishing, hunting, polka music and watching his children and grandkids play sports. He enjoyed traveling and camping, but most of all he enjoyed spending time with his family and friends.
He and his wife moved to Peaster and raised miniature donkeys, peacocks and Shadow the dog.
Andrew loved working on his land and with his hands. Fixing machinery was never a problem with 7 children around. He enjoyed pulling jokes on those he loved. Andrew was loved by all who met him and will be missed dearly.
Andrew was preceded in death by his wife Christine, parents Louis and Mary Uptmore, 2 brothers Clement and Louis, Sisters Dorothy Schilling and Catherine Lednicky and daughters Angela, Mary Ann and Rita Joy Uptmore.
Survivors: Sons, Andrew "Andy" Uptmore Jr. and wife, Angel, Michael Uptmore and wife, Karen, David Uptmore and wife, Tami; daughters, Anna Stapleton, Sherrie Dast and husband, Bill, Paula Moore and husband, Terry; sisters, Margie Lesinski and Bernice Spoukup; 12grandchildren; 11 great-grandchildren; nieces and nephews.
Thompson's Harveson & Cole Funeral Home & Crematory
4350 River Oaks Boulevard
Fort Worth, TX 76114
Ph: (817) 336-0345
For your information the link to the TDOB preneed information website is: