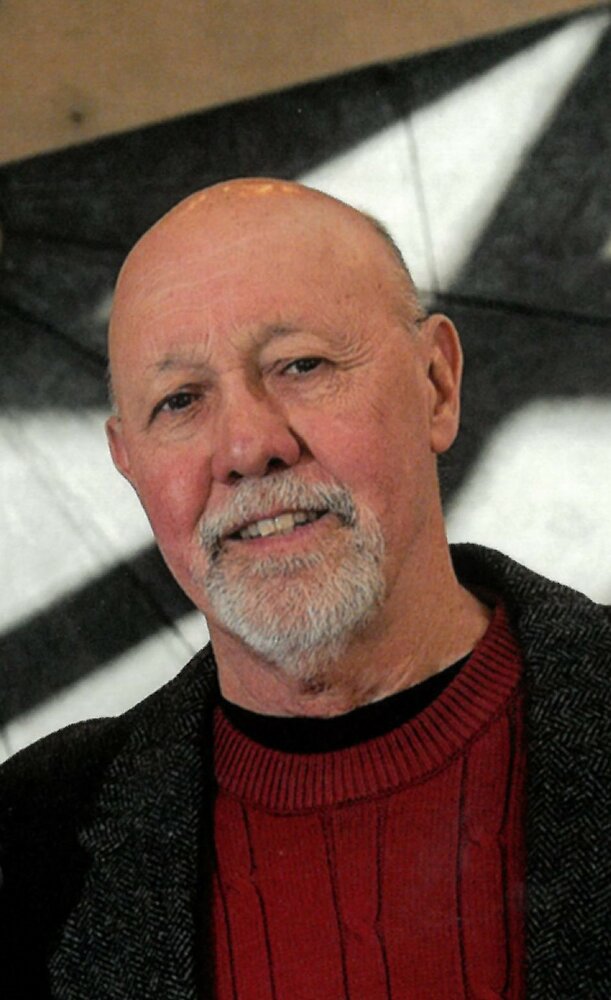 Share Your Memory of
Raymond


Obituary of Raymond Joseph Guy
Raymond Joseph "Joe" Guy died on 12/26/2022 following a several years struggle with degenerative and debilitating dementia.
Joe was born February 21, 1943 in Deposit, New York to Kenneth Britton Guy and Eleanor Roemer Guy. He shared fond memories of this small town and its atmosphere but particularly of summers spent in the cottage on Oquaga Lake on the outskirts of Deposit. In 1953 the Guy family relocated to St. Petersburg, Florida. Joe graduated from St. Petersburg High School and, after what is known today as a "gap year," continued his education at the University of Georgia where he studied Landscape Architecture and ran track.

Joe's education was interrupted by cross-country road trips with friends and a variety of jobs until he resumed his studies in art at the University of South Florida where he met and married fellow art student Linda Guy. The couple moved to Fort Worth,Texas in 1976. Joe completed both his BFA and MFA at TCU and was hired in 1979 by the University of Texas-Arlington, School of Architecture. Joe taught thousands of architecture students over his thirty-two year career and retired in 2011. As Joe was teaching design and architecture forms of drawing, primarily to incoming freshmen, he also began his career as a contemporary artist. Joe enjoyed numerous solo and group exhibits at both commercial and university galleries across the country and abroad. He was included in two publications highlighting contemporary artists---50 Texas Artists (1986) and Contemporary Art in Texas (1995). The recognitions for his teaching and art careers included such awards as Excellence in Teaching (1980-81), a Louis Comfort Tiffany Grant (1987), the UTA Creative Achievement Award (1989), a one-person exhibit (Concentrations) at the Dallas Museum of Art (1989), a Maverick's Favorite Professor recognition (2005), and Professor Emeritus conferral (2012).

In 1998 Joe married his longtime neighbor, Lynn Watson Guy. In the subsequent years, Joe and Lynn traveled to a favorite location in the Davis Mountains just before the new semester at UTA School of Architecture began. They also followed TCU track & field at the Texas Relays and various NCAA championships. The 2008 U.S. Olympic Trials in Eugene, Oregon were often cited as the couple's favorite vacation. In later years, Joe exchanged the heat of track meets for the shade of TCU's Lupton Stadium and was a regular fan at TCU baseball games.

Joe was preceded in death by his parents, Kenneth and Eleanor Guy. Less than a month after his own death, his older sister Marilyn Guy Zaengle. passed away in Connecticut.
Joe is survived by his wife, Lynn; and her children, son, Shawn Smith and his wife Melissa, and daughter Stephanie Smith Atencio and her husband David; five grandchildren, Sanger Smith, Summer Smith Cole (Isaac Cole), Sophie Smith, Hannah Atencio, and Isaac Atencio. Joe is also survived by the Zaengle family of eleven nieces and nephews.
The family thanks the staff of Homewatch Caregivers, Sunrise Senior Living-Reminiscence, and Dr. Gregory Phillips for their combined thoughtful care.

Memorial Service: 11:00 a.m. Saturday, February 18, 2023 at Thompson's Harveson & Cole, 4350 River Oaks Blvd. witha reception follwing the service.
Memorials: In lieu of flowers, please consider charitable donations to the Sierra Club, TCU Athletic Department/Track & Field, or a charity of personal choice.

Thompson's Harveson & Cole Funeral Home & Crematory
4350 River Oaks Boulevard
Fort Worth, TX 76114
Ph: (817) 336-0345
For your information the link to the TDOB preneed information website is: