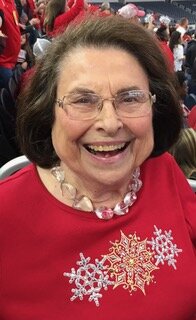 Obituary of Vivian Faxel
Vivian M. Faxel passed away Thursday, February 2, 2023. She was 88.
Rosary: 5:30 p.m. with visitation until 7 p.m., Friday, February 17, 2023 at Thompson's Harveson & Cole.
Mass of Christian Burial: 10a.m. Saturday, February 18, St. Andrew Catholic Church. Private Interment.
Viv was born in Bremond, Texas to Louis and Cecelia Bartula. Her great-grandparents are recognized on a state historical marker as the first Polish settlers in Robertson County in 1875 and who were instrumental in establishing Bremond as the largest Polish settlement in Texas by 1885.
As a child, the family moved to Oklahoma City and Electra, Texas before settling in Wichita Falls where she attended all-girls Catholic school Academy of Mary Immaculate. She worked as a dental assistant before marrying and moving to Fort Worth where she was active in St. Andrew Catholic Church as a Eucharistic Minister, and the circle of Mary Magdalene. Viv worked for Sorokolit Orthodontics from 1990 to 2020. She enjoyed baking, particularly making lamb-shaped cakes at Easter and peanut brittle, Houska bread, kolache and Sugared Nut Drop cookies at Christmas.

Viv is survived by her loving children, Tara Ann Douglas and husband Hiram, and Ralph Faxel, Jr. and wife Brenda; grandchildren, Jenny, Becca, Sarah, and Drew; and great-grandchild, Eli.
In lieu of flowers, please give donations to: Discalced Carmelite Nuns www.carmelnuns.com, Sisters of St. Mary Namur www.ssmnwestern.org or St. Andrew Catholic School general scholarship fund www.standrewsch.org/giving/annualfund.cfm



Thompson's Harveson & Cole Funeral Home & Crematory
4350 River Oaks Boulevard
Fort Worth, TX 76114
Ph: (817) 336-0345
For your information the link to the TDOB preneed information website is: