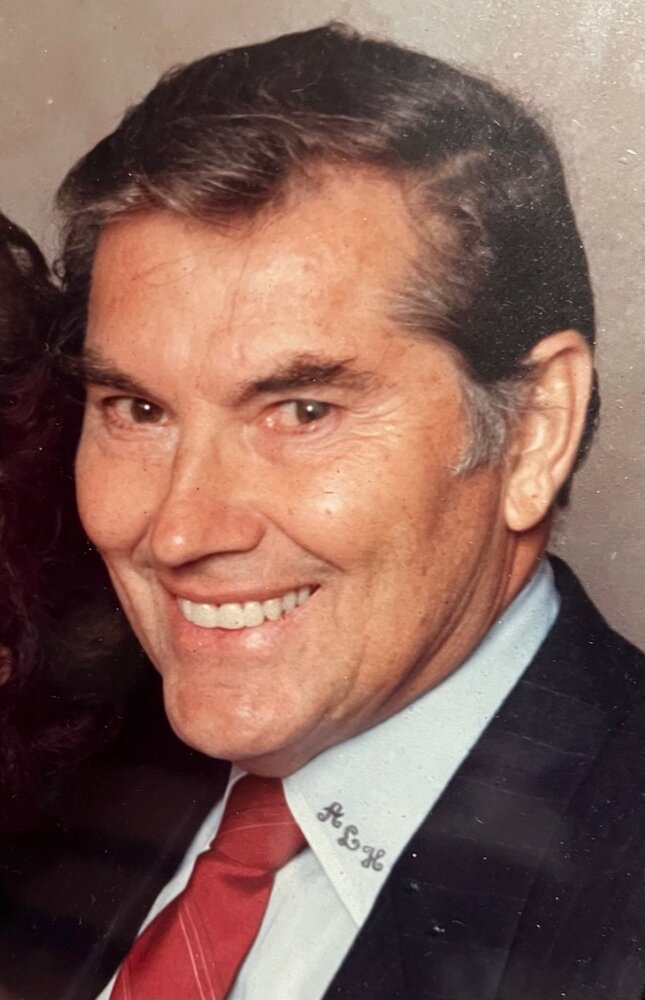 Obituary of A L Holton
A.L. "AL" Holton, a 57-year resident of Fort Worth, Texas was called to his heavenly home Sunday, March 5, 2023. AL was 93 years old.
AL was preceded in death by his parents Allie and Luzine Holton, his younger sister Lavada Holton Row, and younger brother Gary Holton. AL's legacy will fondly be remembered by his beloved wife of over 70 years, Mary Marmolejo Holton; sons Larry A. Holton (and wife Kathy Thornton Holton), Ron D. Holton, and Deacon Steve R. Holton (and wife Debi Davis Holton). AL was known as "Pa" and will be greatly missed by his four grandchildren, Melissa Holton Brown, Christopher M. Holton, Niki Holton Noto, Alexandra "Allie" Holton, and six great-grandchildren with one on-the-way. He is also survived by many beloved nieces and nephews from Florida, Texas and California.
AL was born July 29, 1929 in Soperton, Georgia to Allie and Luzine Holton, spent his earliest years on the family farm, and later, helped to run the family-owned grocery store in Savannah. In his teens, AL also discovered a love for engineering while helping to weld submarines in the port near his home. After high school, AL joined the Marines and was stationed in San Diego, California. It was during this time, AL met Mary, a nursing student. For AL, it was love at first sight. They were married in 1951 and shortly after, gave birth to their first son, Larry in 1953, then Ron in '54 and Steve in '55.
Following his service in the Korean War, AL achieved his Bachelor of Science in Engineering and was offered a job as flight-test engineer at Convair, which later became General Dynamics, then Lockheed Martin. During his time there, AL contributed to the creation and testing of the F-111 combat aircraft and was recruited as one of the few civilian pilots admitted to Area 51. In 1966, AL and his family were relocated to the General Dynamics location in Fort Worth, Texas, where his children finished school, found careers, and started families of their own. In his final decade of employment at General Dynamics and Lockheed, Al served as chief corporate pilot before retiring.
AL and Mary were long-time members of Ridglea Country Club, and he could often be found playing a round on both golf courses. He relished the sport of golf almost as much as touring in his private plane or riding his motorcycle. AL enjoyed all those pastimes in the company of others, especially with his sons. During his years as a pilot, AL was fortunate to visit many different locations around the world, which he would pin on a large wall map displayed in their home and admired in awe by his grandchildren (who weren't allowed to touch the huge collection of markers).
Those who were fortunate to know AL personally, knew a man committed to family, faith, service to others, hard work, and generosity. He especially enjoyed traveling with his family, particularly when he was the one flying the plane. However, every Sunday, AL was present for Mass at St. Alice Catholic Church, which later became Holy Family Catholic Church. He and his wife Mary were typically seen in the far-left pews, surrounded by their children and grandchildren. After Mass, AL delighted in taking the entire family to eat Sunday brunch, a tradition the family still enjoys whenever they are all together.
Family and friends are invited to attend the Mass of Christian Burial and celebration of AL's life at 11:00 a.m. on Friday, March 17, 2023 at Holy Family Catholic Church, 6150 Pershing Avenue, Fort Worth. Interment: Greenwood Memorial Park, 3100 White Settlement Road in Fort Worth.
In lieu of flowers, memorial contributions may be made to an organization dear to AL and Mary over the years, National Shrine of St. Jude, Claretian Missionaries, 205 W. Monroe Street, Chicago, IL 60606 shrineofstjude.org OR Catholic Charities Fort Worth, 249 West Thornhill Drive, Fort Worth, TX 76115 catholiccharitiesfortworth.org


Thompson's Harveson & Cole Funeral Home & Crematory
4350 River Oaks Boulevard
Fort Worth, TX 76114
Ph: (817) 336-0345
For your information the link to the TDOB preneed information website is: