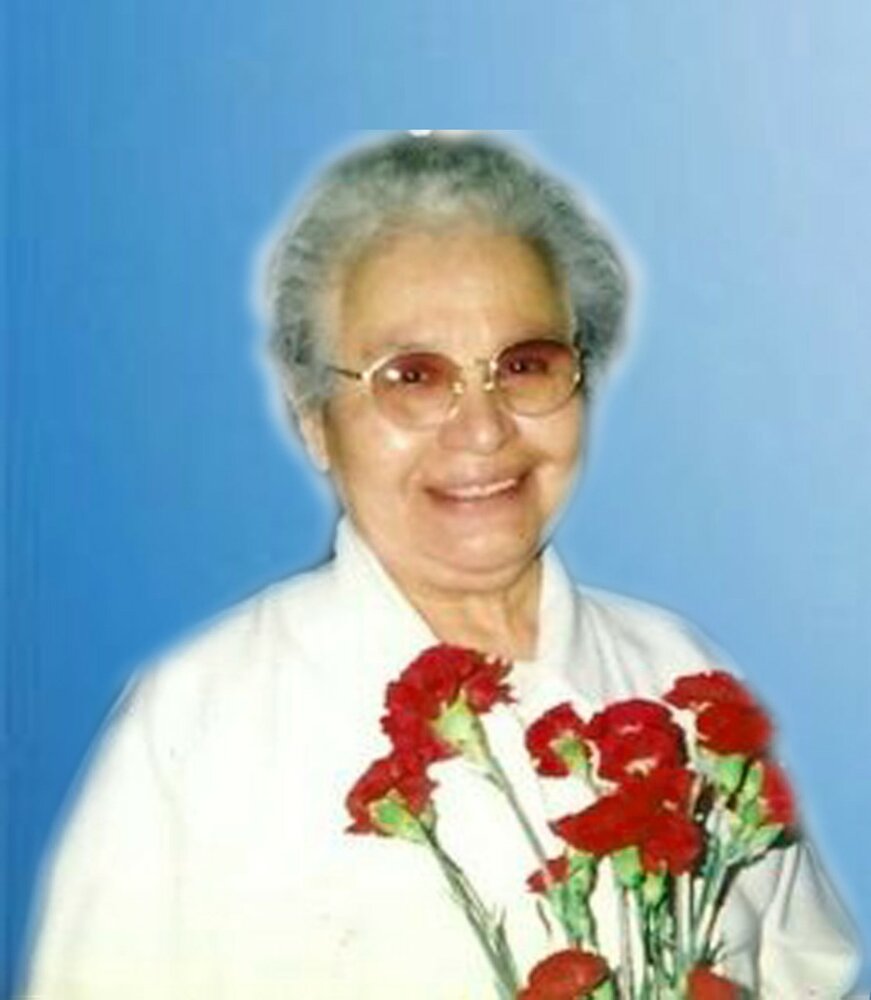 Obituary of Sr. Adelaida Valtierra
Sr. Adelaide Valtierra, 94, passed away Holy Thursday, April 6, 2023.
The Sisters will have a private Rosary and Wake on Tuesday at Our Lady of Victory Center.
Mass of Christian Burial: 11:00 a.m. Wednesday, April 19, 2023 at St. Andrew Catholic Church.
Interment: Mount Olivet Cemetery.
Adelaida Valtierra was born in Reedville, TX, to Tirzo and Maria Valtierra, a beautiful family who had immigrated to Texas, the fourth of seven children. She spent a happy childhood in Milsap, a tiny town near Weatherford. She had a loving grandmother who taught her to love the Blessed Sacrament. During her high school years she lived in the city and enjoyed being able to attend Mass frequently.
As she prayed, more and more she wanted to serve God. A friend who had graduated from OLV encouraged her to meet the Sisters at Our Lady of Victory in Fort Worth. She did and before long, she asked to enter the Sisters of St. Mary, which she did the Fall of 1952. The routine of Mass, prayer and living with other young Sisters was a great joy to her.
She studied at the University of Dallas and Our Lady of the Lake in San Antonio, receiving a B.S. in Education as well as her Teachers' Certificate, and began teaching in the various schools staffed by the SSMNs. She was especially good with children in the primary grades and worked in the government "Head Start." and "Follow Through" programs.
In 1985/86, Sister participated in a Mexico Project led by the Maryknoll Sisters. Some years later she went to Honduras with a medical team from Holy Family Parish as a Spanish translator.
After retiring from teaching, she became active in the Fort Worth Ceramic Guild and often had her works on display at their annual fairs.
As she herself said, "Now, when I am older, it is a joy for me to be with the other Sisters at Our Lady of Victory Center. I am blessed to have the time to admire and smell the flowers, and to absorb the beauty around us…as prayerfully as possible."
Sister Adelaide's love for the Blessed Sacrament was rewarded in her last moments, for she drew her last breath just as we were celebrating the closing minutes of the services for Holy Thursday in the chapel at O.L.V. Center.
Sister is survived by a sister and many loving nephews and nieces.


Thompson's Harveson & Cole Funeral Home & Crematory
4350 River Oaks Boulevard
Fort Worth, TX 76114
Ph: (817) 336-0345
For your information the link to the TDOB preneed information website is: