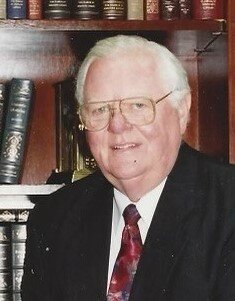 Obituary of A. J. "Joe" Segars
A. J. Segars went to be with his Lord and Savior, and was reunited with Pearl, his beloved bride of seventy plus years, on Sunday, May 21, 2023.
Mass of Christian Burial: 2:00 p.m. on Tuesday, May 30, 2023 at St. Patrick Catheedral. The family will host a visitation at St. Patrick Pastoral Center at 1300 Throckmorton St. following the service. Burial will be private in the family cemetery.
Memorials: In lieu of flowers, the family asks that donations be given to The WARM Place, 809 Lipscomb, Fort Worth, Texas 76104
He was born on December 12, 1930, in Gordon, Texas to Eunice and Ban Segars. Joe attended school in Gordon, and graduated from Gordon High School in 1948. He attended the Dallas School of Mortuary Science, becoming a licensed embalmer and funeral director. He then moved to Fort Worth and worked for several local funeral homes. He met Pearl in November of 1951 in Fort Worth, where she was attending nursing school. Several months later, Joe was called to active duty as a hospital corpsman in the Navy at Waukegan, Illinois. Pearl followed him there after she graduated from St. Joseph's Nursing School and they were married on November 29, 1952, in Waukegan, Illinois.
After his military service was completed, Joe and Pearl returned to Texas, where Joe continued his medical education, graduating from Texas Wesleyan College in Fort Worth. Next, Joe and his young family moved to New Orleans where he attended Tulane Medical School. After attending for one year, funding from the G.I. bill ended, so they returned to Fort Worth where Joe accepted a job as head of the clinical lab at John Peter Smith Hospital. He also worked in the polio wards, and after training in Houston under Dr. Michael DeBakey, operated the first heart lung machine in Fort Worth.
In 1959, Joe started Medical Specialty Co., the first of many medical business ventures. The company started by selling respirators and oxygen tanks from home. The business grew steadily, requiring more space, so an office was opened in 1962. Despite being a full-time mother to their growing family, Pearl assisted in the business too. Later In 1962, the business began selling pacemakers made by Medtronic.
In 1973, Medtronic bought the business, hiring both Joe and Pearl to work for the company. Joe committed to work 2 years for Medtronic. When the commitment was over, he started International Biomedical in Ft. Worth. In 1990, they moved their thriving company to Austin. Joe continued his daily visits to the Austin office well into his late 80's, semi-retiring only when relocating back to Fort Worth in 2017. He grew International Biomedical over the last 48 years to become the largest manufacturer of infant transport incubators in the U.S.A.
Joe's entrepreneurial spirit, work ethic, intelligence, natural curiosity and ability to surround himself with likeminded and talented people made him successful in building several businesses. In 1976, the family moved from Fort Worth to Rio Vista, Texas and turned their farming hobby into their next joint venture, Segars Farms, raising registered Brangus cattle.
His personal qualities and influence over his nine children resulted in each of them being successful on their own. These qualities include a continuous commitment to a personal faith, emphasis on hard work, importance of family, a wry sense of humor and generosity to those in need. Everyone who was around Joe for even a few minutes experienced how important these characteristics were to him. His hobbies included aviation, boating, enjoying nature, golf and spending time with his large family.
Joe is survived by 9 children, John and Michelle Segars, Cynthia Gray and Hal Morrison, Becky and Roy Songy, Tricia and David Amend, Joe and Cindy Segars, Mary and Steve Samuel, Susan and Mike Barrett, Alan and Michelle Segars, and Shelly and Wes Upchurch, 27 grandchildren and 29 great-grandchildren. He was preceded in death by his wife Pearl, his sister Ruby and his brothers A.B., Howard (Red) and Billy Jack.


Thompson's Harveson & Cole Funeral Home & Crematory
4350 River Oaks Boulevard
Fort Worth, TX 76114
Ph: (817) 336-0345
For your information the link to the TDOB preneed information website is: