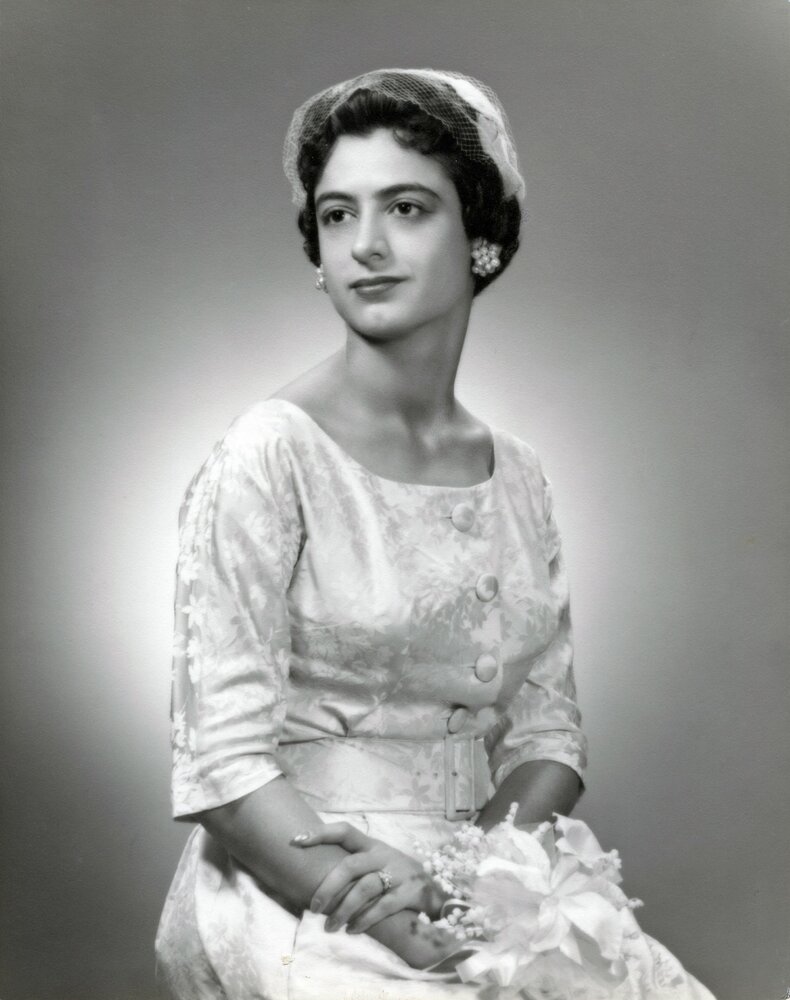 Obituary of Elaine Margaret Khaled Bettinger
Elaine Khaled Bettinger, 87, passed away on Sunday, May 28, 2023. The seventh of eight children, Elaine was born in Galveston, Texas on June 18, 1935 to Joseph and Marie Khaled. After attending Catholic elementary school, Elaine graduated from Dominican High School in Galveston. She later attended the University of St. Thomas in Houston and the University of Texas.
Elaine moved to Fort Worth and through the years worked for General Dynamics, Southwest Research, and American Airlines. She was an active member of St. Andrew Catholic Church where she and Frank were married August 20, 1960. All five kids attended St. Andrew Catholic School and graduated from Nolan Catholic High.
Elaine was a loving, caring wife, mother, grandmother, great-grandmother, and friend. She and Frank loved spending time with family and friends, volunteering at St. Andrew Catholic Church and School, chartering excursions to nearby casino destinations, delivering Meals on Wheels, and hosting annual Christmas parties that will be long remembered.
Elaine was preceded in death by her brother, Edward Khaled and sister-in-in-law, Harriet Khaled; sister Evelyn Khaled Stokley and brother-in-law, Milton Stokley; sister Catherine Khaled; sister Doris Khaled Lanie and brother-in-law, Bob Lanie; brother Joseph Khaled, Jr.; and brother-in-law, Charles Matar.
She is survived by her husband, Frank; sister, Virginia Khaled Matar; sister, Joyce Khaled Grady and brother-in-law, Ed Grady; sister-in-law, Barbara Khaled; her children, Julie Bettinger Kohler, Chris Bettinger, Doug Bettinger and wife, Gina, Nick Bettinger and wife, Nicole, Cindy Bettinger Benser and husband, Mike. Elaine was also blessed with 10 grandchildren, Grace Kohler, Russell Kohler, Elle Swygman and husband, Jack, Brooke Bettinger, Jeno "JD" Bettinger, Meg Bettinger, Lauren Bettinger, Logan Bettinger, Andrew Benser and Tori Benser, and a precious great-granddaughter, Lucy Swygman.
Visitation: 5:00 p.m. with a Rosary at 6:00 p.m. on Tuesday, June 6, 2023 at St. Andrew Catholic Church, 3312 Dryden Road, Fort Worth.
Mass of Christian Burial: 10:00 a.m. Wednesday, June 7, at St. Andrew Catholic Church.
Interment: Mount Olivet Cemetery.
Memorials: In lieu of flowers, should friends desire, memorials may be given to St. Andrew Catholic Church or Meals on Wheels.


Thompson's Harveson & Cole Funeral Home & Crematory
4350 River Oaks Boulevard
Fort Worth, TX 76114
Ph: (817) 336-0345
For your information the link to the TDOB preneed information website is: