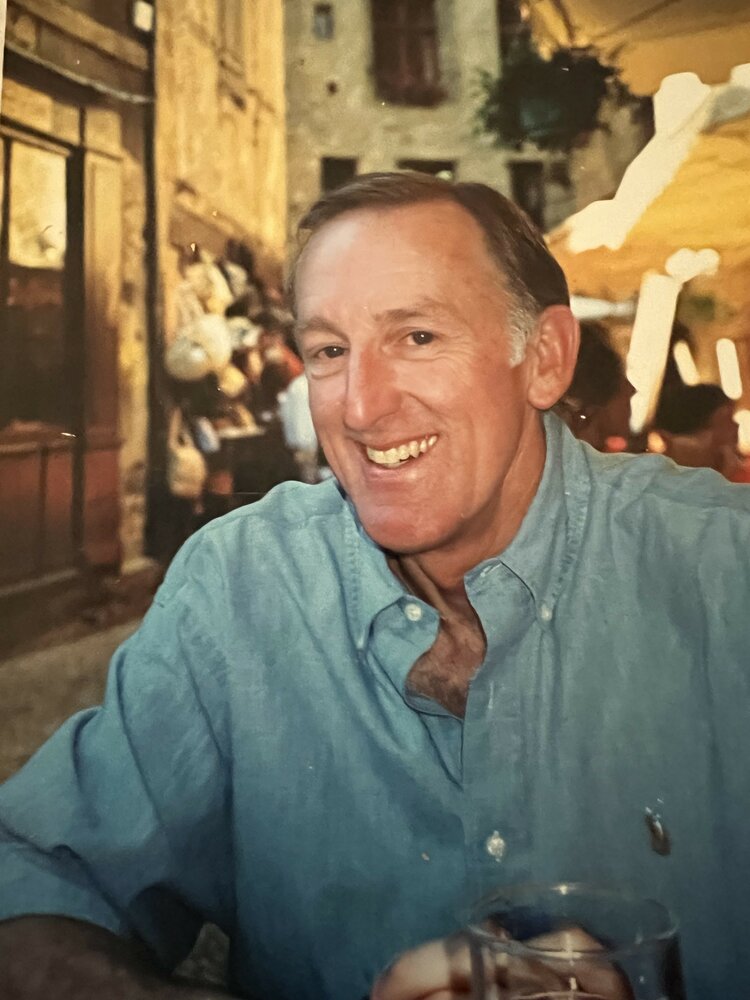 Share Your Memory of
Theodore


Obituary of Theodore P. Gorski Jr.
Theodore P. Gorski, Jr., passed away this past week at 77 - and somewhere he's telling an interesting story about it.
Ted was born in Fort Worth. He found his first job here as a paperboy at age 8 and found a lifelong career at the City Attorney's office, where he led the civil practice division until retiring. Between paper route and retirement, Ted became a Southwest Conference champion at The University of Texas at Austin, graduated from UT law school, married Martine (Tina) Harrison three days after proposing at The Original, and helped raise two children. He was known above all for kindness, warmth, hard work, persistence, and quickness with a joke.
Ted was endlessly curious--constantly reading, constantly observing—and he shared his knowledge and humor generously (sometimes more generously than his children or unwitting cocktail party guest would like). He pulled over to peruse roadside historic landmarks, ducked into any museum he passed, and never held back a joke—even if no one got it. Exquisitely disciplined, he outwitted and outworked his opponents in the courtroom just as he did on the tennis court—with a gracious, light-hearted smile that concealed a relentless will. As an autodidact, Ted was used to being underestimated; he used it to his advantage, without ever surrendering his grace.
Born in Fort Worth to Theodore Sr. and Maetella (Reese), Ted taught himself tennis largely by hitting against backboards on public courts. He was the first in his family to graduate high school (Arlington Heights) and arrived at the University of Texas as low man on the tennis ladder. He found a mentor in coach Wilmer Alison, also a Fort Worther. By junior year, Ted had won the Southwest Conference single's championship, dismantling favored opponents on the way. And, in 1967, he and the Horns won the SWC team championship. By graduation, Ted saw the full tower lit twice for tennis championships. He worked with Alison as an assistant coach during his time at UT Law School and remained a fan and supporter of the team all his life. Polite and respectful as he was, Ted did not back down when he saw what he wanted. Standing ahead of future NFL defensive end Diron Talbert in a college cafeteria line, Ted saw a meaty hand reaching for the last slab of chicken fried steak. Ted forked Talbert. All-American James Street stepped in to avert a conflict that - despite his quickness - would likely have ended badly for the beanpole Gorski. It was a story Ted loved to tell.
Ted met Tina on a matched date in 1973. They had two children, Susanna and James, and spent their lives contributing to the city. Soon after graduating from law school, Ted took a job with City Attorney S.G. Johndroe, Jr. Over the years, he became an expert in eminent domain, eventually pleading cases before the State Supreme Court, and shaping legal precedents that still influence the court today. He was known as a mentor and a supportive colleague. His career at the City Attorney's office spanned five decades.
Ted is survived by his wife of 49 years, Martine "Tina" Gorski; daughter Susanna Gorski Bartolomei and husband Harper; James Harrison Gorski and wife Tamara; grandchildren Theodore "Teddy" Bartolomei, Harper Bennett Bartolomei, and Petra Grace Gorski; in-laws James Martin Harrison, Jr., Anna Melissa and Peter Philpott, and Marsha and John Kleinheinz; and numerous nieces and nephews. He was preceded in death by his mother, father, and brother, Steve.
Funeral services are Friday, June 23 at 11 a.m. at All Saints Episcopal Church – 5001 Crestline Road.
In lieu of flowers, the family requests donations be made to The University of Texas Tennis Scholarship Fund, the Coach Dave Snyder Scholarship Fund ( give.utexas.edu ) or to a charity of your choice.
Thompson's Harveson & Cole Funeral Home & Crematory
4350 River Oaks Boulevard
Fort Worth, TX 76114
Ph: (817) 336-0345
For your information the link to the TDOB preneed information website is: