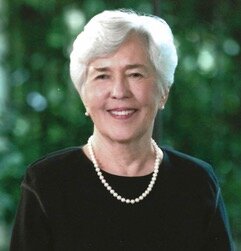 Obituary of Mary Trent Devereaux Leatherwood
Mary Trent Devereaux Leatherwood passed away Monday, July 3rd, 2023, surrounded by family.
Mass of Christian Burial: 2 p.m. on Friday, July 14, 2023 at Holy Family Catholic Church in Fort Worth, Texas. Private interment: Dallas-Fort Worth National Cemetery.
Memorials: In lieu of flowers, donations in Mary's memory may be made to the Kimbell Art Museum or the Modern Art Museum of Fort Worth education programs.
Mary was born March 1, 1932 to John Raymond and Frances Trent Devereaux in New York City. Following her early years in Kentucky, the family moved to Long Beach, California, where she graduated from St. Anthony's High School. She also attended the University of Kentucky and Long Beach State University. Mary was a spirited cheerleader at Saint Anthony's and the University of Kentucky and continued demonstrating the cheers into her 90's. A lifelong lover of music, Mary had a beautiful voice and a large repertoire of songs. She and her siblings sang together at every occasion and that tradition continues with their children and grandchildren. She continued to perform with family past her 90th birthday and enjoyed singing with the Stayton Strummers.
Mary began her career at American Airlines as a flight attendant in 1953. After raising her family, she returned to serve as a volunteer with the Kiwi Club in 1975. She then worked in customer relations at the American corporate offices, finally retiring in 1994.
Mary traveled extensively with her husband, family, and with friends, visiting many corners of the globe. She was a lifelong learner, enjoyed playing bridge, participating in book clubs, and had an enduring interest in art history, language and literature. She was a dedicated docent at the Kimbell and Modern art museums in Fort Worth for decades and loved sharing her passion for, and knowledge of art.
Mary and Phil Leatherwood were married February 12, 1955. They had four children and eight grandchildren. She had a larger-than-life personality and will be fondly remembered for her devotion to family, witty humor, strong commitment to her many friends and deep respect for the dignity of all humanity. She is survived by: her children, Elizabeth Nelson and husband, John, of Fort Worth, and their children, Mary Frances and William; Peter Leatherwood and wife, Kelly, of Fairfield, CT, and their children Anna, Sarah, and Maggie; John Leatherwood and wife, Theresa, of Dallas, and their children, Davis and Linus; and daughter-in-law Alma Kudabaeva, of Fort Worth, and her daughter Aisha Leatherwood; siblings, Peter Devereaux and wife, Denise of Long Beach, CA, Elizabeth Devereaux and Nick Malone of Chico, CA, Dan Devereux of Charlottesville, VA, and sister-in-law Nancy Devereaux of Boston, MA; and eight nieces and nephews.
Mary was preceded in death by her husband, Philip Leatherwood, her son, Philip Leatherwood, Jr. and her brother John R. Devereaux and sister-in-law Danielle Devereux.


Thompson's Harveson & Cole Funeral Home & Crematory
4350 River Oaks Boulevard
Fort Worth, TX 76114
Ph: (817) 336-0345
For your information the link to the TDOB preneed information website is: