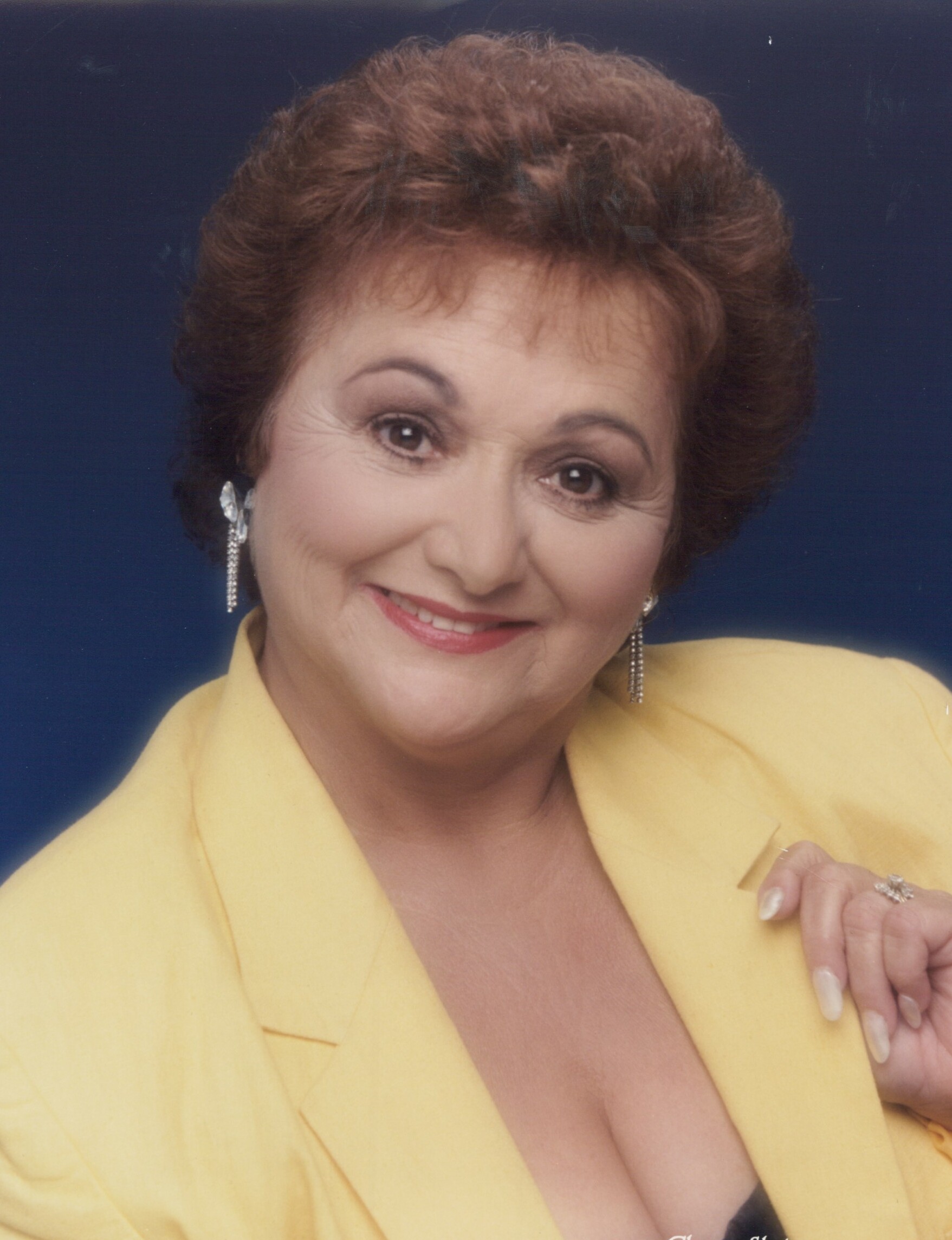 Obituary of Florence Lorraine Piscitelli Harbour
Florence Lorraine Piscitelli Harbour, 90, died peacefully of natural causes on Monday, Jul 10, 2023 in Willow Park near her home in Weatherford.
Rosary: 5 p.m. Monday, July 24, 2023 with a visitation following until 7:30 p.m. at Thompson's Harveson & Cole Funeral Home, 4350 River Oaks Blvd.
Mass of Christian Burial: 11:00 a.m. Tuesday, July 25, 2023 at St. Stephen Catholic Church, 1802 Bethel Road, Weatherford.
Interment: 2:00 p.m. Tuesday, July 25, 2023 at the Dallas Fort Worth National Cemetery.
Memorials: Alzheimer's Association, 2630 West Freeway #100, Fort Worth, Texas 76102 or Lighthouse for the Blind, 912 W Broadway Ave, Fort Worth, Texas 76104
Florence was born July 21, 1932, the fifth of six daughters to Michael Emanuel Piscitelli and Lucy Alice Rignola Piscitelli in Brooklyn, New York. She grew up in Westbury and Lindenhurst, Long Island, New York. She graduated August 24, 1951 as a Teacher of Dancing from The Chalif Normal School of Dancing. She taught ballet, tap, flamenco, and ballroom dancing anywhere she could. She taught ballroom dancing for the the Arthur Murray Dance Studio from 1951-1954. She met her future husband at the USO where she was teaching the airmen how to dance. This Airman named Donald Harbour then got stationed in California where her wrote her love letters regularly. Discouraged that she wouldn't write back as often as he wrote, he decided to buy her a diamond watch and send to her along with a proposal of marriage, which she accepted. They married November 7, 1954 at St. Brigid's Catholic Church in Westbury, New York and drove off in a blue Studebaker.
Their first home was 1534 Kellogg Place, Rapid City, South Dakota, where Donald was stationed at nearby Ellsworth AFB. Their family grew with the birth of Frances, born August 8, 1955, and Michael, born November 3, 1956. While Donald went to Spence Air Base in Poultry, Georgia, Florence flew home to Lindenhurst NY to give birth to their third child, Richard, born October 24, 1957 in Lindenhurst, New York. When Donald was stationed at McConnel AFB, the family of four moved with him. Then they added a fourth child to the family, Albert, born April 11, 1959, in Wichita, Kansas. The family then moved to Lockbourne AFB in Columbus Ohio. There, cousin Mike Schledorn, age 11, moved in to be a Big Brother for the next 7 years. He was called "Red Mike" to differentiate him from "Little Mike". Florence taught ballet and tap at the base while living there. Donna Lorraine was born May 28, 1962 in Columbus, Ohio. The family loaded up in the station wagon, with no seatbelts, and headed to Merced, CA, and Roswell, NM in 1962-63. They settled in Bossier City LA where their sixth child, Donald Jr was born December 26, 1964 at Shreveport AFB, LA. By June of 1965, the family settled in Fort Worth Texas, where Donald was in the Strategic Air Command at Carswell AFB.
After living in Western Hills for two years, they moved to Carswell AFB for three years and back to Western Hills. Once settled in Western Hills, Florence opened a dance studio in the garage, which was converted into a room. She taught ballet and tap from 1970-72. After Donald retired from the Air Force in 1972, Florence and Don became Real Estate Brokers and operated Don Harbour Real Estate from 1972-82.
Being the fifth of six girls in her Italian family, Florence didn't do much cooking. She spent her time skiing and crabbing in the Long Island Bay. When she married Don and moved to South Dakota all she knew how to do was "boil water." Once at Carswell AFB, she perfected her cooking skills in the Officer Wives Gourmet Club. A monthly dinner hosted by a different Officer's wife and different culture of cuisine. These dinners were complete with costumes and authentic recipes from the host. There was no Google or Internet back then, so Florence subscribed to cooking magazines and books. She loved to cook and anyone that knew her loved her cooking. This led to a food gifts during the holidays to coworkers and teaching Eggroll cooking to many to sell at local Optimist Club fundraising events. Soon people wanted to buy her foods so she began a catering business. This led to her opening up Harbour's Galley, sandwich/lunch spots in office buildings in Overton Park Bank Building, Summit Towers, Meadowbrook Bank Building. All of this while cooking and hosting for a large family that grew to 50 people during the holidays not to mention friends that were included.
Florence and Donald also had a passion for sharing the American Way with many refugees from Vietnam in the 1970s and Odessa Ukraine in the 1990s, that became "Family" too. They loved the water whether a timeshare on the beach in Cancun and Playa del Carmen which they went twice every year for YEARS. In 1974 they put a pool in the backyard because Texas was hot. There was always a pool party and always someone getting thrown in for not wearing a bathing suit.
After Florence closed her restaurants in 1999 and Don retired from Southwest Airlines, they moved further west to Weatherford Texas on Cliff View Loop which overlooked Lake Weatherford. Two kitchens built into their retirement home and definitely a diving pool. There was ALWAYS parties of 50+ always going on. One in 2005 had 150 guests around the pool and having fun.
While in Fort Worth, Florence and Donald were members at Holy Family Catholic Church, and were very active with St Vincent de Paul and the Young Vincentians. In Weatherford Florence was a member of St. Stephen Catholic Church.
Florence had a life long passion for dancing, cooking, and water sports (skiing, swimming, boating) and loved traveling, knitting Christmas Stocking, crocheting blankets, and sewing clothes for the kids when young.
Florence was preceded in death by her husband of 62 years, Donald Harbour Sr.; son, youngest of six children, Donald Harbour Jr.; grandson, Donny Stephen Bowers; daughter-in-law, Ann Harbour; nephew, Andrew Gabriel Harbour; parents, Michael Piscitelli and Lucy Piscitelli; sisters, Frances St John, Theresa Gearing and Marian Farynick; and extended family, Gina Mai Hoang and Ludmila Vergilesova.
She is survived by her children, Frances Hauss (husband, Earl ), Michael Harbour (wife, Thelma), Richard Harbour, Albert Harbour (wife, Terrie), Donna Bowers; daughter-in-law, Lisa Ann Harbour; sisters, Martha Farynick and Lucille Tedesco (husband, Lu); grandchildren, Chris Drewry (wife, Heather), John Drewry (wife, Kim), Travis Harbour, Vanessa Bowers (husband, Matt), Nick Hauss (wife, Jennifer), Courtney (husband, Jeff), Christi Harbour, Jessica Bowers, Danny Bowers, Ben Hauss (wife, Cynthia), Donald Harbour III (wife, Brittany), Albert Harbour (wife, Kaitlyn), Marie Ordonez (husband, Eddie), Florence Bowers, Shiloh Bowers; step grandchildren, Taylor Moss, Greg Moss, Chad Moss, Aaron Moss; and 30 great grandchildren.


Thompson's Harveson & Cole Funeral Home & Crematory
4350 River Oaks Boulevard
Fort Worth, TX 76114
Ph: (817) 336-0345
For your information the link to the TDOB preneed information website is: