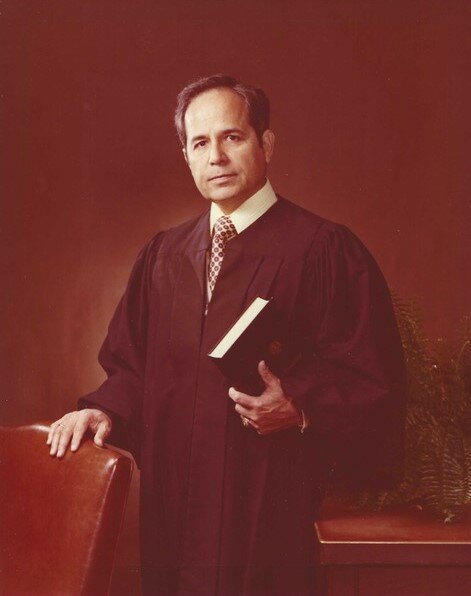 Obituary of Judge Pete Perez
The Honorable Judge Pete Perez
First Mexican American Assistant District Attorney and
State District Judge in Tarrant County, Texas,
to be Laid to Rest at the Texas State Cemetery
In his role as a judge, lawyer and civic leader, Judge Perez modeled and supported the notion that public service and civic leadership were noble goals for a generation of people in the 1970's, 80's and 90's.
He passed away late Tuesday evening, July 25, 2023, at the Trinity Terrace Retirement Community following a short decline in his health. His daughter, grandson and loving wife of 64 years comforted him at his bedside.
Perez began his legal career in 1959, when he was appointed as Assistant District Attorney to the Tarrant County District Attorneys Office by Doug Crouch. After accepting the appointment, he moved with his newlywed bride, Elisa M Barrera from San Antonio to Fort Worth.
After a few years at the District Attorneys Office, he opened a private law firm, Perez, Dickens & Sullivan where he worked on both civil and criminal cases for 14 years. A point of pride for Judge Perez was that Dickens, Sullivan and he all went on to serve at the District Court level: Judge Perez the 372nd, Judge Dickens the 297th and Judge Sullivan the 322nd.
During thoseyears he also served on numerous committees and boards throughout Tarrant County and inspired citizens from all walks of life to pursue public office.
In 1967 he was appointed by President Lyndon B. Johnson to Chair the Selective Service Appeals Board during the Vietnam War overseeing Consciousness Objector cases, among others. In 1971 President Richard Nixon awarded him a certificate for his years of service to the Nation.
Perez gained notoriety in Tarrant County in the spring of 1970, when Fort Worth Mayor, RM "Sharkey" Stovall proclaimed Pete Perez Day to celebrate his contributions to Fort Worth and Tarrant County. Chairman of the event, Judge JC Duvall cited Perez's contribution to racial understanding.
Throughout the 70's Perez served on numerous civic boards and chairperson positions. Among these, President of the Fort Worth Good Neighbor Council, Chair of the Tarrant County Community Counsel Housing and Code Enforcement Committee and panelist for an educational program sponsored by the National Conference of Christians and Jews entitled Equal Opportunity in Business and Industry. He was a member of the Sertoma Club that annually distributed copies of the Declaration of Independence to Fort Worth 5th graders. Throughout his career he frequently visited FWISD schools to speak with local students about the importance of their education. He often stressed that success was simply a series of failures that one learns from.
In 1972 Perez ran an unsuccessful campaign to unseat incumbent Judge Walter Jordan for the 48th District Court. The final vote was 399 to 112.
In 1974 he was featured in a promotional film produced by First of Fort Worth National Bank and the Fort Worth Chamber of Commerce. Fort Worth: The Unexpected City was narrated by Jimmy Stewart and featured other Fort Worth notables such as Charles Tandy, Cattleman Steve Murrin, Bobby Ray Sanders and Alan Sampson. To his dying day he loved Fort Worth and the opportunities that it had offered him in his legal career and as a place to raise his family.
Perez's judicial career began on January 1, 1976 when he was appointed to a Fort Worth Municipal Court as Judge Pro Tem.
In 1978 he was elected to the newly established Tarrant County Criminal Court Number 4 where he served over misdemeanor cases for 12 years. During this time he served on the Tarrant County Bail Bond Board.
Judge Perez attended and completed The National Judicial College in Reno, Nevada following his election to County Criminal Court Number 4.
In August of 1978 he lost the Tarrant County Executive Committee vote nomination for an opening at Criminal District Court No 2. He was a late entry to the race and said "he was not seeking the judgeship simply to find a cozy job in which to complete his career…vote for the rising sun and not the setting sun." He ended by stating that his goal was to become a justice on the Texas Supreme Court and gaining a position on the District Court would be a step in that direction.
In 1990, he was elected to the newly established 372nd State District Court where he presided over felony cases for 4 years.
Following his years in the judiciary of Tarrant County, he served as a Traveling Judge for the State of Texas presiding over cases in rural counties or acting as a substitute in cases where other judges were temporarily unable to serve.
For some years prior to his official retirement, he volunteered at SCORE Fort Worth, providing free business mentoring and coaching to existing and emerging business people in Fort Worth. Serving and counseling others was his greatest passion and he successfully inspired numerous people modeling how the American Dream was possible despite a person's humble beginnings or lack of resources.
Born in Laredo, Texas in 1931, Pete was the firstborn son of Margarita Pena and Pedro Perez. With his 4 brothers and 3 sisters, he was raised in Bustamante, Nuevo León, Mexico through first grade and spent the remainder of his childhood in Corpus Christi, Texas, graduating from Corpus Christi High in 1949.
While he enjoyed an idyllic childhood in Mexico, free to wander with neighborhood children and ride his burro along the streams and through the mountains near his home, he gained a fierce spirit of independence and self preservation as his father believed that economic and social struggles were the norm in life and his children needed to be prepared for every eventuality.
He demonstrated his independence and social nature by the age of 5 when he constructed a shoeshine box and routinely worked the street corners in Bustamante and Corpus Christi in order to earn extra money for the family. He credited his charisma and public speaking skills to performing in children's theater in the town plaza gazebo in Bustamante.
Another well known story that many people knew was that he moved out of the family home and into the mattress factory at the age of 13. From that vantage point he was able to understand and contribute to the family business in a more meaningful way.
After high school, he attended Del Mar College for one semester but dropped out after running out of funds. Old enough to enlist without his parents' consent, he joined the United States Navy in 1949 completing basic training in San Diego, California and serving on the USS Thomas Jefferson, a troop transport ship stationed between Oakland, California and Hawaii. Although he completed his one-year contract and was discharged, he was soon called back when the Korean War began.
He was Honorably Discharged from the United States Navy on November 10, 1952 with distinctions of Korean Service Medal (1 star) and a United Nations Service Medal having served on the USS Rochester. While serving he worked in various capacities, one of which was to establish the line-of-sight for the ship artillery; this left him with hearing loss in one ear.
Following the War, he attended St Mary's Law School in San Antonio, where he held down various jobs such as parking cars and setting bowling pins in order to pay expenses not covered by the GI Bill. He also helped to support his younger sister who was left orphaned after the death of both parents. Perhaps due to his learning English as a second language, he always felt that he was not the strongest student. Reassured by an A in his Evidence Class in his first year, he persevered and graduated with a Doctorate of Juris Prudence in May of 1958.
In his retirement years, Judge Perez enjoyed studying Latin at The College of St Thomas Moore, playing various musical instruments such as the piano, guitar and most passionately, the harmonica. He routinely traveled with his grandchildren and learned to ballroom dance and practice yoga. To his dying day he continued reading numerous areas of study such as Ethics, Philosophy, Religion, History and Biographies. Most notably, he read the New York Times and Wall Street Journal up to the day of his death.
Judge Perez was predeceased in death by:
His Parents -Pedro and Margarita Pena
His Son - Peter Joseph Perez
His Siblings - Joe, Albert, Arthur Perez & Jose P. 'Kinnin' Ramirez and Carmen Montoya
His In-Laws -Elisa Narro Barrera, Jesse Barrera, Roy Garza, Terry Perez, Porfirio Montoya, Joe and Angelica Lazo, Margarette Perez, Glenn Skates and Janice Lee Messenger
His Nieces and Nephews - Rosalinda Garza, Norma Montoya, Johnnie Joe Perez, Margarita Ramirez Cuellar, Margie Perez, John Richard Messenger, Steve Perez, Rolando Banda Jr and Carlos Villareal.
Survivors include Elisa M. Perez (wife), Grace Elisa Woodard, Elizabeth Perez Azerad, MD and Renee Perez (daughters), Elizabeth Garza & Hilda Banda (sisters), Dorin, Jessica, Zachary and Raphael Azerad and Donald M. Woodard III (grandchildren), Robert Azerad, Donald Woodard Jr, Fred Ramos, Rolando Banda Sr, Mary Helen Perez (in-laws), Dora and Arthur Lazo, Albert Perez Jr, Margo Calomera, Carla Perez, James and Karen Perez, Nelda Montoya Naranjo, Nora Cantu, David and Bobby Montoya, Orphalinda and Hector Acosta, Roy and Susan Garza, Ronald and Andrew Banda, Laura Bill, Yolanda R Garcia, Raquel R Garza, Diana R Ortiz, Idalia Skates, Rosalinda Hernandez, Jose, Javier, Rodolfo, Fernando, Ramiro, Rene and Gerardo Ramirez.
A Funeral Mass will be held for Judge Perez on Friday, August 25, 2023 at St. Andrew's Catholic Church, 3312 Dryden Rd, Fort Worth, Texas. Visitation will begin at the Church at 9:45am with a Rosary at 10:40 and the Mass at 11:00am. A lunch will follow in the Church Social Hall. All are invited to attend.
His interment will take place on Friday, September 29, 2023 at the Texas State Cemetery, 909 Navasota St. Austin, TX 78702. The family requests that those who would like to attend the burial reach out to Thompson's Harveson & Cole for further details.
Friends wishing to make a donation in his name may consider the following:
~ The Honorable Judge Pete Perez Memorial Fund (link to Artes de la Rosa ) for the Artes Academy at Artes de la Rosa in Fort Worth
~ or St Mary's Law School at St. Mary's University Alumni (link to stmarytx.edu). Please direct gifts to the Dean's Fund – School of Law in the memory of Judge Pete Perez.


Thompson's Harveson & Cole Funeral Home & Crematory
4350 River Oaks Boulevard
Fort Worth, TX 76114
Ph: (817) 336-0345
For your information the link to the TDOB preneed information website is: