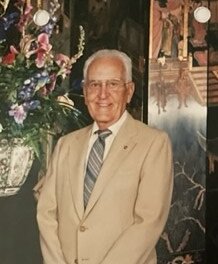 Obituary of Ernest George Lacroix
Ernest (Ernie) George Lacroix passed away on Sunday, August 6, 2023 at the age of 104.
Rosary: 6:00 p.m. Thursday, August 17, 2023 at Thompson's Harveson & Cole Funeral Home, 4350 River Oaks Blvd.
Visitation: 6:30 - 8:00 p.m. Thursday, August 17, 2023 at Thompson's Harveson & Cole Funeral Home, 4350 River Oaks Blvd.
Mass of Christian Burial: 11:00 a.m. Friday, August 18, 2023 at Holy Family Catholic Church, 6150 Pershing Avenue, Fort Worth.
Interment: Greenwood Memorial Park.
Memorials: In lieu of flowers, please make a donation in Ernie's memory to RollCall at https://rollcall.networkforgood.com/projects/174334-everyday-donations
Ernie Lacroix was born on February 22nd, 1919 in Attleboro, MA. As a young man with an adventurous spirit, he formed a life-long appreciation for skiing, skating, playing the saxophone, and singing with his family.
But it was the vastness of the skies that beckoned him most. At the age of 23, Ernie enlisted with the Army Air Corp in World War II, where he flew his B25 bomber— fondly christened 'Smoky's Posse' — in 76 missions, earning a Distinguished Flying Cross and the French Legion of Honor.
During a serendipitous posting as a test pilot in Fort Worth, he was introduced to his next great love after flying: Helen Ruth. She became his most cherished co-pilot for over 69 years of marriage, and their boundless love for each other became an inspiration to all who knew them.
Most of all, Ernie will be remembered for his kindness, generosity, and joy for life. His sense of humor and infectious smile brightened every room he entered, and his vivid, hilarious stories never failed to lift the spirits of those around him. So as we honor his memory, do as he always did, and remember to smile. Share it generously. Light up someone's day. And know that in that fleeting moment, he's somewhere up above, smiling right back.
Ernie is survived by his daughter, Karen Coby and her husband, Pat; son, Steven Ernest Lacroix and his wife, Debbie; daughter, Lee Ann Rottler and her husband, Steve; seven grandchildren, eight great-grandchildren, and a constellation of nieces, nephews, and friends who were touched by his spirit throughout his incredible 104 years of life.
Fly high, ski smoothly, and keep the stories coming, Ernie. We're all still listening and will always remember "Aloft the spirit sings".


Thompson's Harveson & Cole Funeral Home & Crematory
4350 River Oaks Boulevard
Fort Worth, TX 76114
Ph: (817) 336-0345
For your information the link to the TDOB preneed information website is: