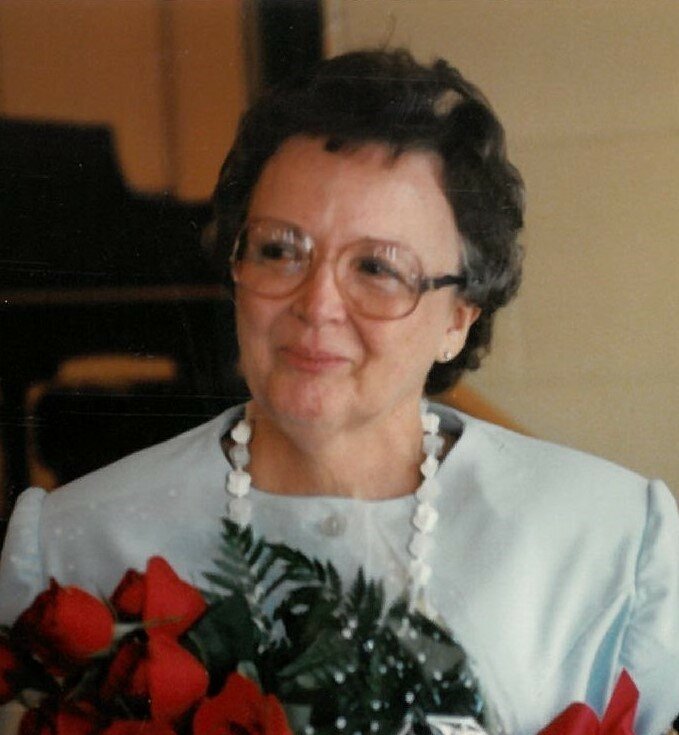 Obituary of Marilee Fluke Evans
Marilee 'Molly' Fluke Evans, age 93, retired defense contractor auditor, passed away Tuesday, August 29, 2023 at the Stayton retirement home in Fort Worth, TX.
Born April 7, 1930 in Ashland County, Ohio to John Welch Fluke and Peggy Ellen Woodworth Fluke, she is survived by her son and daughter-in-law, David and Eva Evans of Pipe Creek, TX; her sister-in-law, Gretchen Fluke of Cold Spring, NY; niece, Hilary (Stuart) Ratner of Detroit, MI, niece, Elizabeth (George) Horacek of Fairview Park, OH, niece, Cecily (Mark) Hall of Cold Spring, NY, and niece, Meredith (Todd) Davis of Woburn, MA. Marilee was preceded in death by her husband of 50 years, Philip John 'Phil' Evans; her sister, Gloria Barr Horn; and her brother, James Preston Fluke.
Marilee grew up on a small farm outside Ashland, Ohio. Her father was a Farm Bureau manager and then operated a livestock trucking business. After the war he operated a meat packing plant. Her mother was a school teacher. As a young girl, Marilee would answer the home phone and write down messages about whose and what animals her father was to truck to Cleveland. She graduated from Ashland High School in 1948 as Co-Valedictorian. She attended 2 years of college on scholarship at Baldwin Wallace in Berea and then graduated from Ashland College in 1952. In the 1970's she attended the University of Texas at Arlington and received a masters degree in accounting, and would go on to acquire her CPA.
She married 'Phil' Evans on June 26, 1954. They met at a Presbyterian Church's Duplicate Bridge for singles. Philip was an aeronautical engineer from Idaho who was in the Cleveland area working for the forerunner of NASA. They moved to San Diego, California when Phil got a job with Convair. In 1956 their son David was born. In 1963, Phil was transferred to Fort Worth, Texas to work on the F-111. He would spend the rest of his career working at the 'bomber plant'. Over the years, his paycheck changed from Convair, to General Dynamics, and finally to Lockheed by the time he retired. When Phil retired, Marilee retired too.
From 1952 to 1955, Marilee taught 4th or 5th grade in Ashland, Olmsted Falls, Lakewood & Berea, Ohio. After moving to Fort Worth, Marilee was a volunteer at the Fort Worth Library. When the F-111 program started to wind down, Marilee brushed up on her secretarial skills and went back to work. First as a secretary for the Fort Worth Police Department, then with Soil Conservation Service and later the FAA. When the F-16 program got going, Phil's job was safe. Marilee went back to school. After getting her masters degree in accounting, she went to work as an auditor for the Defense Contract Audit Agency.
She was musically inclined and was descended from professional musicians. She played the clarinet all of her life. Marilee was moved into the adult choir as a young teenager. She sang in church choirs for the next 60 years. In Fort Worth she sang in the Ridglea Presbyterian Choir, First Presbyterian Choir, First Methodist Choir. When she heard that the Southwestern Seminary Oratorio Chorus was recruiting female voices she joined up. During her time there, she had the honor of singing on stage at Bass Hall when the Oratorio Chorus accompanied the Fort Worth Symphony.
At the Woman's Club of Fort Worth, she was active in E. Clyde Whitlock and Euterpean music clubs and the Needlework club. She was an excellent knitter. Marilee was very smart, outgoing, fun, witty, and generous. Marilee along with her husband Phil and her son, David was an active kayaker. She knew how to teach a kayak eskimo roll. Marilee attended water exercise classes at the former GD Rec Center. She continued playing bridge throughout her life. She attended bridge class and played bridge at the Stayton. She continued being active with music by belonging to the Stayton Strummers. She was very fond of the Fort Worth Symphony and the Mimir Chamber Music Festival. She was excellent at cooking and sewing. She enjoyed making beaded necklaces. She belonged to the Fort Worth Symphony league. While residing in Fort Worth, TX since 1963, Marilee has lived in the Ridgmar area, in the downtown Tower condominium and in the Stayton retirement home.
Marilee's Memorial Service will be held on Friday, October 27, at 2:00 pm in Bewley Hall of the Woman's Club of Fort Worth, 1316 Pennsylvania Ave. A graveside service will be held for her at the Pipe Creek Cemetery, 1057 FM1283, Pipe Creek, TX, on Sunday, Oct. 29 at 2 pm.
Donations in Marilee's memory may be made to the Mimir Music Festival (mimirfestival.org) or to the Fort Worth Symphony (fwsymphony.org).


Thompson's Harveson & Cole Funeral Home & Crematory
4350 River Oaks Boulevard
Fort Worth, TX 76114
Ph: (817) 336-0345
For your information the link to the TDOB preneed information website is: