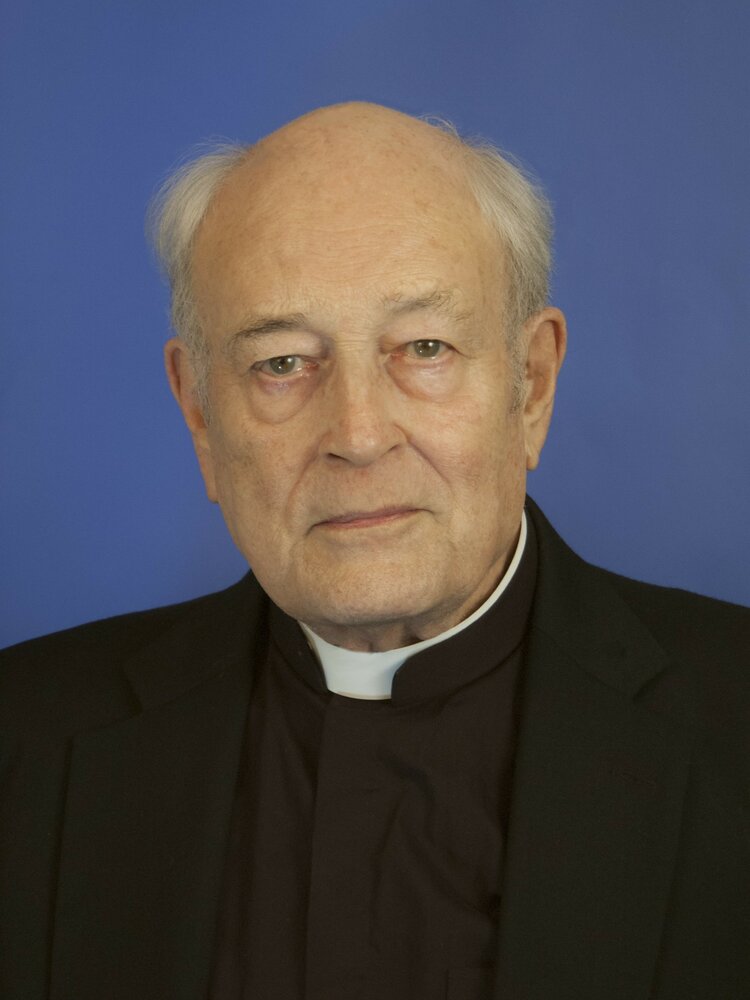 Obituary of The Rev. Allan Raeburn Giles Hawkins
The Reverend Allan Hawkins died October 4, 2023 at 89 years old.
Mass of Christian Burial: 11:00 a.m. Wednesday, October 11, 2023 at St. Philip The Apostle Catholic Church, 5201 Cross Timbers Road, Flower Mound, TX 75022.
Fr. Hawkins was born to The Reverend Raeburn Simpson Hawkins an Anglican clergyman and Doris Mary Hawkins (Née Jones) on March 20, 1934 in Manchester, England. At thirteen years old he was sent to Rossall School in Lancashire, England. Upon graduation from school he did a period of National Service in Her Majesty's army as an officer in the Royal Army Service Corp. He went up to Cambridge University, Selwyn College where he received a baccalaureate and master's degrees in Theology studying under Dr, Owen Chadwick. Following university he went to Theological College at Cuddesdon Seminary in Oxford England. He was ordained as an Anglican Deacon in 1960 and Priest in 1961. After serving his first curacy in Northamptonshire England he went to the Parish of Saint George in Stevenage, England where he became Parish Priest. Following his time there he was appointed vicar of St. Mark's church in Swindon England. In 1980, he was appointed rector of Saint Bartholomew's Episcopal Church in Arlington, Texas. In the mid-1980's, the parish, under his leadership renamed itself The Church of Saint Mary the Virgin and in a history making series of events left the Episcopal Church in 1991, with its property, to enter into full communion in the Catholic Church. In June of 1994 the whole parish was formally received into The Church and Fr. Hawkins was ordained Catholic Deacon and then Priest. He retired in December of 2011 to his home in Fort Worth, Texas and assisted as needed in the diocese but most importantly served regularly at the parish he regarded as his home, St. Philip's in Flower Mound, Texas which he loved and where he was loved. In 2019 after a life-long friendship with His Imperial and Royal Highness Otto von Habsburg he was installed as a Knight of the Order of Saint George of The House of Habsburg-Lothringen in Budapest, Hungary. He was a member of the Religious Council of the Order
Fr. Hawkins was known principally as a great pastor and teacher. His wit, wisdom and encyclopedic knowledge of all things was legendary. While theology and philosophy were his great academic pursuits, his interests varied widely and wonderfully. He was a life-long enthusiast for lighter-than-air travel and followed developments closely. He was an ardent monarchist. He adored music, especially that of French and English composers. He was a voracious reader particularly of theology which he kept current till his last days. He loved to travel, particularly to France and travelled all over Western Europe. He loved history, literature and poetry, food and wine with a predilection for sherry, politics, ballet, current events, practical jokes and humor, he was a great raconteur known by his family as a great teller of his storied past He was a bon vivant. He loved electronics and technology and stayed technologically current until his last months, leaving a bewildering array of devices and gadgets. He was an ardent Dallas Cowboys fan and unbeknownst to his family until has last days, tennis, in his youth. His pride and joy was his family over which he presided as a beloved patriarch. Quite apart from his more formal calling as a priest he had worked in the packing department of a chocolate company, driven a petroleum tanker, been CEO of a small railway company, president of a ballet company and a high school teacher.
It is as a husband and father where those of us who knew him best knew that his finest role was that of husband and father, father-in-law, grandfather and uncle. He was a stalwart supporter, friend, confidant, pastor and hero to those in his familial care. He married his wife of 59 years José (Née Allen) Elizabeth Hawkins of St. Albans, England in 1964; they have two children.
He was preceded in death by his father and mother and his sister, Barbara and her husband, Dr. Frank Field, his in-laws Arthur and Ella Allen. He is survived by his wife, José, his son Giles Hawkins and wife Felice, by his daughter Sarah Rice and her husband Neil and their two children Samuel and Thomas, all of Dallas/Fort Worth and two nieces, Elizabeth Mary Flackett and Catherine Murray of England.
In lieu of flowers, please make donations to the building fund of St. Philip The Apostle, Flower Mound, Texas in his memory.


Thompson's Harveson & Cole Funeral Home & Crematory
4350 River Oaks Boulevard
Fort Worth, TX 76114
Ph: (817) 336-0345
For your information the link to the TDOB preneed information website is: