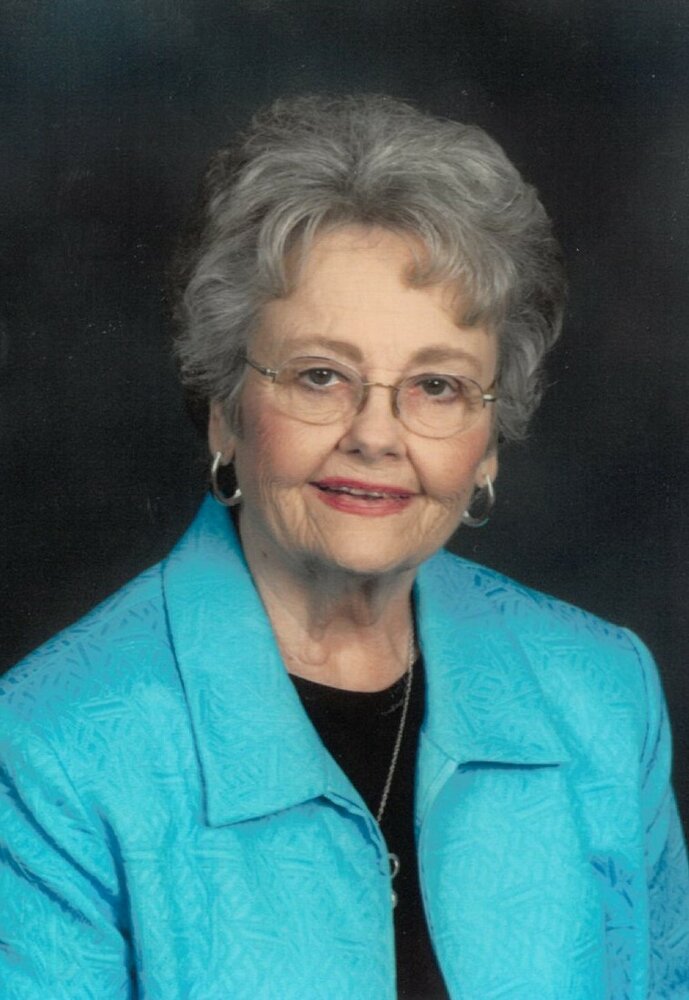 Obituary of Lois Marie Jeanes Morris
Fort Worth – Lois Marie Jeanes Morris, 94, a retired secretary of the Fort Worth Independent School District, passed away October 14, 2023 in San Antonio, Texas. She was preceded in death by her beloved husband of 52 years, Haynes Morris.
Visitation: Noon – 1:00 p.m. on Monday, October 23, 2023 at Broadway Baptist Church, 305 W Broadway Ave, Fort Worth, Texas.
Funeral Service: 1:00 p.m. Monday, October 23, 2023 at Broadway Baptist Church with burial to follow at Greenwood Memorial Park, 3100 White Settlement Road. Pallbearers: Kevin Escobar, Nicholas Escobar, Lyle Jeanes, Dean Morris, Ramon Romo, Jr., Austin Romo, Thomas Willis, and Jeff Wolpa.
Memorials: Her memory may be honored with a contribution to Broadway Baptist Church or a charity of one's choice.
Lois was born in Taylor, Texas on February 15, 1929, the daughter of Herbert and Louella Jeanes. She had one brother, Lyle Herbert Jeanes. She graduated from Taylor High School in 1947 and attended Texas State University in San Marcos, Texas.
On September 9, 1950, Lois married Haynes in Taylor after dating one another for nine months. Lois' grandmother lived across the street from the Morris family in Maypearl, Texas. Lois and Haynes lived in Shreveport, Louisiana then moved to Sherman, Texas and settled in Fort Worth beginning in 1953 until Lois moved to San Antonio in 2019. They had three children, Deborah, Keith, and Leigh Ann.
After raising her children, Lois served as a secretary for FWISD in various schools and retired in 1990 from Stripling Middle School. She was a devoted member of Broadway Baptist Church since 1953 and a member of Ridglea Country Club for 49 years. She also served many years as a member of the Fort Worth Association of Educational Secretaires, The FWISD Retired Secretaires Association, The Woman's Club of Fort Worth, and The Fort Worth Genealogical Society.
After retirement, she spent many hours volunteering with Plaza Medical Center and as a docent with the Fort Worth Zoo. Lois enjoyed time spent on genealogical research, visiting court houses, cemeteries, and libraries to pass along her research to family members. After doing much research, she decided to put her findings into book form, which she gave to her children one Christmas.
She will be remembered as a loving wife, mother, aunt, grandmother, great grandmother, and friend. She was preceded in death by her husband Haynes Morris, February 14, 2003, her parents Herbert and Louella Jeanes of Taylor, Texas, her brother Lyle and his wife Alice Jeanes of Sherman, Texas, and her great grandson Nathan Romo of Lorena, Texas.
Survivors: Her three children, Debbie and husband Adolph Escobar of San Antonio, Keith and wife Kit Morris of Crowley, and Leigh Ann and husband Ramon Romo of Lorena, eight adoring grandchildren, eleven great grandchildren, one great great grandchild, and many nieces and nephews.


Thompson's Harveson & Cole Funeral Home & Crematory
4350 River Oaks Boulevard
Fort Worth, TX 76114
Ph: (817) 336-0345
For your information the link to the TDOB preneed information website is: