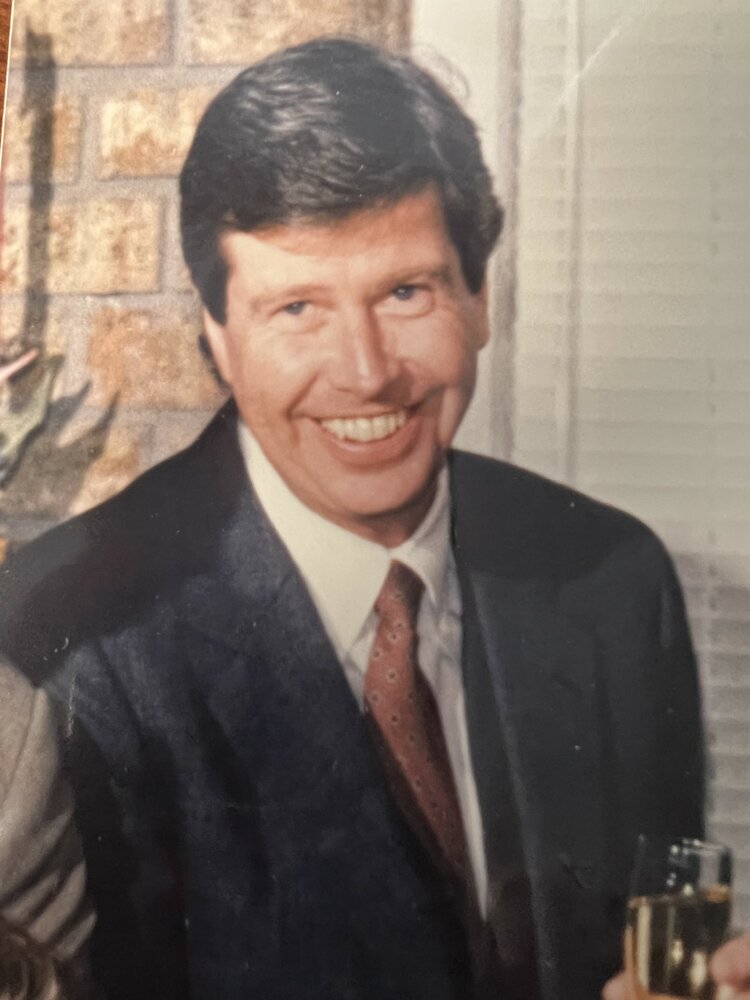 Obituary of Dixon Presnall
Dixon Presnall, M.D. passed away peacefully at his beloved home on Thursday, October 19, 2023, following a lengthy illness involving Chronic Lymphocytic Leukemia, and most recently a diagnosis of Richter's Transformation.
Dixon was born on January 6, 1940 to Emmett and Ruby Matlock Presnall, both deceased. He had one older brother Robert E. Presnall, ThD, also deceased. He was born and raised in Fort Worth, growing up in their home on Park Place in the Berkeley Forest Park area. Many lifelong relationships were formed with numerous boys and girls in the same neighborhood. He attended Lily B. Clayton Elementary, McLean Middle School and graduated in the unique and fabulous class of Paschal High School 1958. Enduring relationships were made from these three institutions, but also many additional friends were added from Arlington Heights High School.
University education followed at TCU, graduating in 1961 with a BA degree in biological and combined sciences fulfilling requirements for attending medical school. An M.D. degree was obtained from the University of Texas Southwestern Medical School in 1965. He became an ardent supporter of TCU athletics including both football and baseball through memberships in both The Frog Club and the baseball Diamond Club.
An internship and partial ER residency was performed from July1, 1965 through September 1966 at John Peter Smith Hospital in Fort Worth prior to entering the US Navy Medical Corps as a Lieutenant.
His naval service included an intense 6 month education in aviation medicine at the Naval Aerospace Medical Institute in Pensacola, Florida which also included the basic naval aviation flight training plus solo flight courses alongside the naval flight students. Subsequent graduation from the institute along with having the coveted Flight Surgeon wings pinned on the uniform followed in April, 1967.
Nearly 3 years of active service followed at the US Naval Air Station, Kingsville, Texas as a flight surgeon for both the air station helicopter search and rescue teams and their support personnel. Dixon was also assigned to one of the 3 advanced training fighter squadrons to care for the pilot instructors, trainees and their personnel. The training jets were F9, and later A4 aircraft. Approximately 250 hours of flight time in both helicopters and the jet aircraft were obtained including combat training flights with instructor aviators teaching the student pilots in their separate aircraft, plus many weekend cross country flights.
During this period of time several instructor pilots and graduated student aviators he knew who were assigned to Vietnam combat duty were killed; that was the bad part of an otherwise busy and exciting time. However, another catastrophe came through Kingsville in the form of category 3-5 Hurricane Beaulah in 1967 which necessitated evacuation of the base except for essential persons, including Dixon who was assigned to a large enlisted personnel dormitory/apartment type complex as the medical officer in case of need. Although 24 counties were declared disaster areas and $11.4 billion in damages accrued, the base survived without major disruption. There were more than 600 deaths in Northern Mexico and 24 in Texas. 27 inches of rain in the area fell rapidly resulting in flooding, taking days to clear.
Proud of his service, he left the Navy in January 1970 as a Lieutenant Commander. He returned to the mid-cities with family (wife Judy and three children) to begin a radiology residency in Dallas at Saint Paul, Parkland and Texas Children's Hospitals which was completed at the end of 1972. Private practice then began as a diagnostic radiologist in Fort Worth with both office and hospital based services. He was one of the original founding partners of Consultants in Radiology, P.A. After 22 years of practice, 5 of which were as managing partner, a new phase of practice began.
He became an associate radiologist with Radiology Associates of Abilene, Texas for the next 15 years until retirement in 2010. To him this was a very intellectually stimulating practice with 9 other radiologists, primarily serving Hendrick Medical Center. Abilene was the hub for the referral of patients from many communities in the large surrounding area. Many cases were both interesting and difficult, but when a diagnosis was reached due to the help of the Radiology department that benefited both patient and referring physician, the satisfaction was very rewarding. He was proud of the many friendships made.
As for personal life, following two earlier marriages and the birth of four children, Dixon married Carol West Langdon in August 1992 and was blessed with the addition of Carol's two children. They settled on a "ranchette" in Aledo, Texas in 1993. Currently their marriage of over 31 years was spent enjoying the suburban country life their place offered. There were plenty of trees and enough space to enjoy entertaining friends and family as well as allowing ample room for a changing menagerie of dogs, cats and various flocks of chickens and their delicious fresh eggs. Thanks go to Dick and Cheryl Curry for sharing some of their "poultry expertise". A large barn on the property allowed for a spacious wood working shop where many building projects were completed plus the usual assortment of doodads, birdhouses, bookcases and such. However numerous clockworks and pieces of furniture were pridefully made. Dixon found unwavering companionship in YoYo, his recently rescued German Sheppard and other dogs, Amos, Andy and Rosie.
Dixon was a devotee of cards games, especially poker, gin rummy and contract bridge. Several trophies were won in Hold 'em poker and gin rummy tournaments as well as master points in bridge. The outdoor sports of hunting and fishing filled much spare time with many friends. Especially memorable to him were combined hunting and camping trips with forever friends Robert Borgers and George Siddons. Also memorable to him and his sons was the one in a generation quail hunting season of 1987-88". Many days were spent in the field hunting over well trained bird dogs.
Dixon was also proud of his Christian heritage instilled at an early age by his parents, and in spite of periodic lapses that undoubtedly occur in many others, ultimately remained steadfast in his religious faith. He and Carol became members of Trinity Bible Church in 2002, which was and is pastored by Reverend Jon Sherman (also TCU) who became a special friend as well as spiritual leader.
Various professional and social memberships were formed over time. Dixon was a member of Phi Chi medical fraternity, a life member of the Tarrant County Medical Society with additional time spent in the Texas Medical Association and the Radiological Society of North America. He and Carol were members of River Crest Country Club where other friendships were nurtured and included the requisite games of golf and cards. Two golfing trips to Scotland also occurred. There were also memberships at The Fort Worth Club and Fort Worth Petroleum club. And TCU as noted.
During the pre-operative evaluation for bilateral knee replacement surgery in the summer of 2011, a diagnosis of chronic lymphocytic leukemia was made. Over the years multiple courses of chemo/immunotherapy therapy kept the disease largely in remission until the past 2 months when the subsequent diagnosis of Richter's Transformation was found.Thanks go out to Dr's Mark Redrow, Steve Richey and Craig Dearden for their contributing care and treatment.
Survivors include beloved wife Carol Langdon Presnall; sons and spouses, Roger A. Presnall (Margo), Craig E. Presnall (Julie), Hunter K. Presnall (Sherry); daughter and husband, Sharon A. Presnall Crockett (Craig M.), "Daughters are a real treasure"; stepson and wife, Clay A. Langdon (Whitney); stepdaughter and husband, L. Kendall Langdon Levy (Richard); a total of 14 grand and step-grand children, each one a special, unique and loved person; 4 great grandchildren; special niece, Myra E.Presnall Huckins who is more like a loving, caring younger sister than niece; and, the lasting post-marriage friendship with 1st wife, Judy.
In lieu of flowers, donations to the TCU Athletic Department, SPCA, The Cystic Fibrosis Foundation, and The Leukemia and Lymphoma Society or any charity of choice, may be made.
A Memorial Service will be held at 1:00 p.m., November 2, 2023 at Thompson's Harveson & Cole, 4350 River Oaks Blvd. Fort Worth, Texas 76114.
Following the service a reception will be held at River Crest Country Club in The Founders Room.


Thompson's Harveson & Cole Funeral Home & Crematory
4350 River Oaks Boulevard
Fort Worth, TX 76114
Ph: (817) 336-0345
For your information the link to the TDOB preneed information website is: