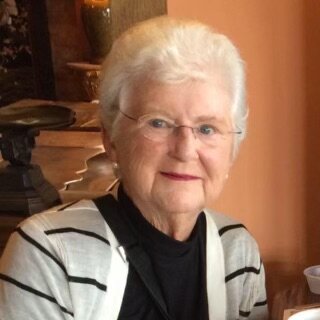 Obituary of Joan Kline
Joan Kline passed away peacefully at her home of nearly 60 years on October 28th, 2023, her 93rd birthday. She was surrounded by three generations of loving family members who sang, "Go Now in Peace" to her as she was gently carried out of her home.
Visitation: 4 - 6 p.m. Friday, November 10, 2023 at Thompson's Harveson & Cole Funeral Home.
Mass of Christian Burial: 1:00 p.m. Saturday, November 11, 2023 at St. Andrew Catholic Church. The Mass will also be livestreamed via https://www.standrewcc.org/live-stream
Private Interment: Dallas-Fort Worth National Cemetery.
Pallbearers: Arthur Kline, Joseph Kline, John Kline, Davis Kline, James Castleberry, John Blake, William Blake, Samuel Murray.
Memorials: Her memory may be honored with a contribution to The Women's Center, 1723 Hemphill St., Fort Worth, TX 76110; Sisters of St. Mary's, 909 W. Shaw St., Fort Worth, TX 76110; or Cancer Care Services, 800 W. Magnolia, Fort Worth, TX 76110; Multicultural Alliance (MCA), P.O. Box 12569, Fort Worth, TX 76110
In her own words, Joan had, "a life that far exceeded anything she had imagined." Her unfaltering faith carried her through a challenging childhood and ultimately to the man with whom she would create her cherished family. It was on a blind date in October of 1951 that she met the love of her life, Arthur F. Kline, Sr., at a CYO social. They married not long thereafter on December 27, 1952. Both Joan and Art wanted a big family and they were blessed with the birth of nine children. They were devoted parents and one of their favorite quotes was, "The greatest gift we ever gave you was each other." Joan's family considered her to be the best mother and grandmother they could ever have hoped for. She was a person of great wisdom and intuition who could shed light on any situation.
Once Joan's children were well established in school, she was determined to be a strong voice in her community. In addition to becoming a tireless advocate for the public school system in Fort Worth, Joan started organizing at the neighborhood level, petitioning to divert truck traffic away from neighborhood streets and to create a public park and playground across from Daggett Elementary School. She was instrumental in founding the Ryan Place Improvement Association in 1969, and was a driving force for a large part of the neighborhood being entered in the National Register of Historic Places, making Ryan Place the first residential historic district in Fort Worth.

Joan founded and operated her own successful commercial real estate brokerage firm, Kline & Lasko, that later became Kline & Co. Joan was responsible for and closed many high-profile projects in Fort Worth including a visionary 7th Street land assemblage west of Trinity Park that positioned the entire 7th Street corridor for redevelopment, but Joan's passion was for the historic southside. She was a founding member of the Near Southside organization where awards are given annually in her name for leadership in responsible, creative, and adaptive redevelopment within the Near Southside.

Joan was one of the original members of I-Care, an organization formed to move the I-30 overpass out of downtown. The organization came together recently to insure the completion of the Hemphill/Lamar connection of the Near Southside to downtown. Many of her I-Care colleagues on this project became lifelong friends.
Joan was a stalwart supporter of the Multicultural Alliance (MCA) that stands against everyday racism on an individual, institutional, and systemic level.
Joan's productive, impactful contributions to her family, her community and her profession have spanned eight decades and affected thousands of lives. Her accomplishments have been, to say the least, far-reaching.
Joan's strength of character and talent for building relationships was a teaching tool for those desiring to listen and learn. She affected almost every person who came into contact with her. What one could learn from her was that truth had no equal. Whatever the challenge, whatever the goal, a belief in imparting the truth was the beginning for change. Joan believed in change, but not just any change. Change for the betterment of human beings, especially those with faint voices. Voices seldom heard. She was their voice for change. Joan's legacy now lives on in those whose lives she touched. She lives on in their kindness and their good deeds. What a wonderful gift she gave, and what a wonderful gift she was.
Joan was preceded in death by her loving husband of 54 years, Arthur F. Kline, Sr., and by her granddaughters, Lauren Taylor Castleberry and Meghan Elise Kline. She is survived by all nine of her children, and the many grandchildren and great grandchildren:
Children:
Arthur Francis Kline Jr. and Bridget Davis Kline
Anne Elizabeth Kline
Jane Frances Kline
Mary Therese Kline and William Roger Sarsgard, Jr.
Margery Kline Blake and John William Jay
Joseph Patrick Kline and Linda Christensen-Mack
John Andrew Kline
Ruth Elaine Kline
Sara Kathryn Kline and David Allan St. Martin

Grandchildren:
Brianne and Justin Bulla, Davis Kline
Barbara Linch, Stephanie and Matthew Hawkins
Breanna Stinnett, Nolan Stinnett
Ashley and Christian Ramos, James Castleberry, Caroline and Craig Lawson William and Malorie Sarsgard, Christopher Sarsgard, Alyssa Sarsgard
Elizabeth Blake, John Blake, Emily and Diogo de Almeida, Will Blake, and Abigail and Zach Weygandt
Lucy and Willard Kelly, Anabelle Kline
Helen Kline, Natalie Kline
Samuel and Eden Murray, Rose Kline-Garson, Skyler and Anna Wheeler, Bridget and Robert Malloy
Great Grandchildren:
Emmeline Bulla, Dahlia Bulla
Alexandros Stillwaggon, Jack Lawson
Mila de Almeida, Lucas de Almeida, Nora Weygandt Leighton Kelly, Juliet Kelly
Evelyn Murray, John Paul Wheeler


Thompson's Harveson & Cole Funeral Home & Crematory
4350 River Oaks Boulevard
Fort Worth, TX 76114
Ph: (817) 336-0345
For your information the link to the TDOB preneed information website is: