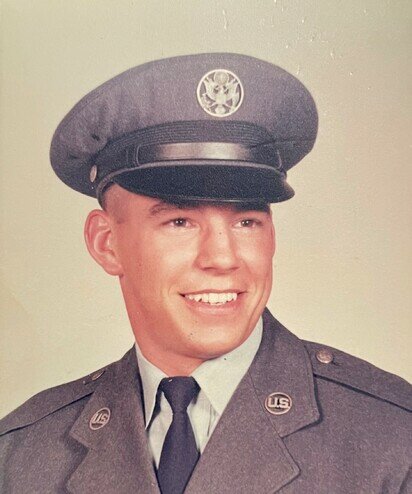 Obituary of Dave Martin
Burnard David Martin was called to his Father's home on October 31, 2023. He was 73.
Rosary at 5:00 p.m. with Visitation until 7:00 p.m. on Tuesday, November 14, 2023 at Thompson's Harveson & Cole Funeral Home, 4350 River Oaks Blvd., Fort Worth, TX 76114.
Mass of Christian Burial: 10:30 am Wednesday, November 15, 2023 at Holy Family Catholic Church, 6150 Pershing Avenue., Fort Worth, TX 76107.
Interment: 2:00 p.m. Wednesday, November 15, 2023 at the Dallas-Fort Worth National Cemetery, 2000 Mountain Creek Parkway, Dallas, TX 75211.
Memorials: Should friends desire, in lieu of flowers, memorials may be given to the Disabled Veterans of America or a Catholic charity of their choice.
Known to all who knew and loved him as Dave, he was a beloved husband of 50 years, a loving father to 3 children, a doting grandfather ("Popo") to 8, a friend to all, and a proud United States Air Force Veteran.
Dave was born January 14, 1950 in Rockwood, Tennessee to Burnard and Geneva Martin. Dave attended college in Tennessee prior to joining the Air Force in 1969 and was stationed at Goodfellow Air Force Base in San Angelo, Texas, where he met the love of his life, Bernice. Dave and Bernice were soon engaged and planning their life together when he was deployed to Thailand and Vietnam during the Vietnam War. After Dave returned from the Vietnam War, he and Bernice were married and began a family. He lived and worked in San Angelo, where all three children were born. As the aviation industry changed, so did the companies he worked for, and the Martin family moved and settled in Fort Worth, Texas, where they made a lifetime of wonderful memories.
Dave loved sports and laughing with his kids and grandkids. He was a stranger to no one and was always willing to lend a helping hand. He could fix anything and would show up with tools in hand whenever his children couldn't. He showed up to every event with his stadium seat to cheer for the kids and critique the coaches. Dave had a quiet and caring demeanor which endeared him to all. His wit, charm, and compassion blessed the lives of everyone he knew. His presence in this world will be truly missed by his family and friends, but his arrival in his heavenly home is a comfort to us all.
He was preceded in death by his parents, Geneva Martin and Burnard Martin, and his sister, Martha.
He is survived by his wife, Bernice Y. Martin; children, Debra Proctor and her husband Troy, Leslie Roe and her husband Andrew, Jason Martin and his wife Jordan; grandchildren, Benjamin Proctor, Victoria Proctor, Presleigh Roe, Ciara McClanahan, Faith Martin, Cash Martin, Campbell Roe, and Christian Johansen; sister, Mary McNelly; and many nieces, nephews, cousins and extended family.


Thompson's Harveson & Cole Funeral Home & Crematory
4350 River Oaks Boulevard
Fort Worth, TX 76114
Ph: (817) 336-0345
For your information the link to the TDOB preneed information website is: