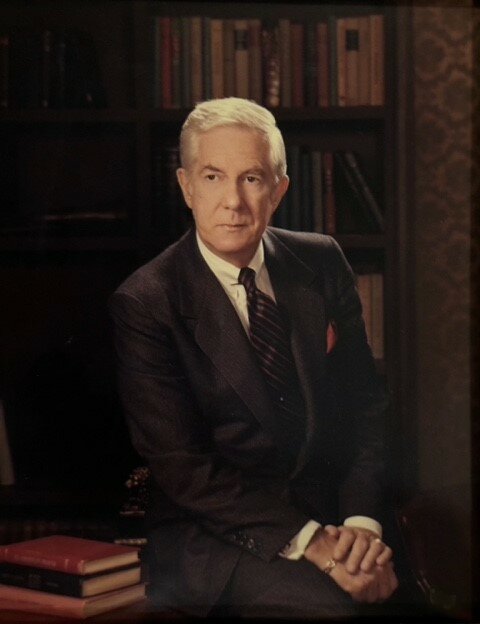 Obituary of Harmon Barry Bailey
H. Barry Bailey, 97, passed away on Thursday, November 2, 2023. A private ceremony took place in the Chapel at Thompson's Harveson & Cole Funeral Home on Saturday, November 11. In 2018, he decided to write his own obituary, beginning with, "I enjoyed life, but not as much as some suspected and more than others may have hoped."
Barry Bailey
"I am writing my own obituary. I will try not to exaggerate or enlarge but may fail in that endeavor. I cannot write this without expressing my love to my wife, Joan, who died in 2017.
Preaching was a delight for me. I enjoyed preaching; it was so important to me. I enjoyed and loved every congregation I served. My life was built around my family, but I think that is where you find the love of God- through love of family and love of people. One of the things that I enjoyed so much about the church is that it allowed me to help people.
While I was at First United Methodist Church in Fort Worth, we organized many programs that did just that - helped people. We initiated the Infant Formula Program, so that every child born at John Peter Smith Hospital had the formula that they needed. We developed the Day School Program through the YWCA to provide a place for children to stay during the day, so their parents, who lived at the Presbyterian Night Shelter could apply for work. We were involved with the Night Shelter in numerous other ways. We also established the Women's Haven in Fort Worth and the Samaritan House at the time of the emergence of HIV. These things were so important to me.
I was on the Board of Trustees at SMU for sixteen years, and while I was there, I was asked to teach a Wellness course. This meant that every SMU freshman took my course. I was asked by the department head to go in there and talk; stimulate their discussion. He said to let them know that a good question is always better than a poor answer. That was a wonderful experience for me.
I had the prayer for the 100th Congress of the United Sates, and for the 200th anniversary of the Methodist Church in Baltimore, MD. This was where the church originally started, and I was invited by the Baltimore delegation to make a motion to have a Christmas o?ering for the needy, which was what was done 200 years earlier at Lovely Lane Chapel where the Methodist church was organized and where we were meeting at that time.
I have loved life, loved my family, and had the privilege of being involved or being associated with some wonderful people. I am thankful to God that I was allowed to live the life I lived. My prayers and blessings and love go out to all of you."

From the Family
Barry Bailey was born to Marguerite and Lamar Bailey on September 30,1926 in Hampton, Arkansas. He attended Southern Methodist University where he met his future wife, Joan Kessler. They were married in 1950 and had two children, Barry and Janice.
Barry received his Bachelor of Arts degree from Hendrix College in Conway, Arkansas, and his Master of Theology degree from Perkins School of Theology in Dallas, Texas. He was awarded several honorary degrees during his ministry, as well as the Distinguished Alumni award from both Southern Methodist University and Hendrix College.
Barry served seven churches during his ministry, and these congregations were frequently cited as the fastest growing churches in Methodism. He was appointed senior minister of First United Methodist Church in Fort Worth in 1976 and served there for 18 years. During his tenure at FUMC, he wrote seven books, played an instrumental role in broadening the Sunday televised services, led in the establishment of the FUMC foundation and, along with his wife Joan and many others, developed a program to help families in need gain access to clothing in an affirming, store-like setting. He served on multiple committees and received many honors from various organizations throughout the region. Barry always considered it an honor to serve as guest preacher at various community and church events, and to fulfill the many Lectureships and speaking invitations he received form Minister's Conferences across the South-Central Jurisdiction.
Barry was fondly called Pete by Joan and longtime friends, and Pop and Pop-Pop by grandchildren and great-grandchildren. He was a fulcrum of warmth and love, maintained a great sense of humor and enjoyed meditation and reflection. Always insightful and forever a voracious reader, he loved sharing with all around him. He motivated people for good and saw good in them, filling his life by connecting with people. He could listen and boil down a seemingly complex problem into an easy process for mitigating the situation. He made the best mint punch from scratch and could grow flowers "like nobody's business." He would call family first thing in the morning and say, "What can I do to help you today." We will miss him greatly.
Barry is survived by son, Barry Kessler Bailey and significant other, Ms. Debbie Curran; daughter, Janice Bailey Robinson and son-in-law, Dr. Roger Robinson; grandson Wesley Lamar Robinson and wife Dr. Lindsay Robinson; great-grandchildren, Reid Roger Robinson and Kathryn Bailey Robinson; granddaughter, Laura Allison Godleski and grandson-in-law Mr. Lee Godleski and soon to be born great-grandson, Coleridge Roy Godleski; and granddaughter Stephanie May Robinson and grandson-in-law Mr. Nick Jenkins.
Website maintained by the family https://www.drbarrybailey.com/


Thompson's Harveson & Cole Funeral Home & Crematory
4350 River Oaks Boulevard
Fort Worth, TX 76114
Ph: (817) 336-0345
For your information the link to the TDOB preneed information website is: