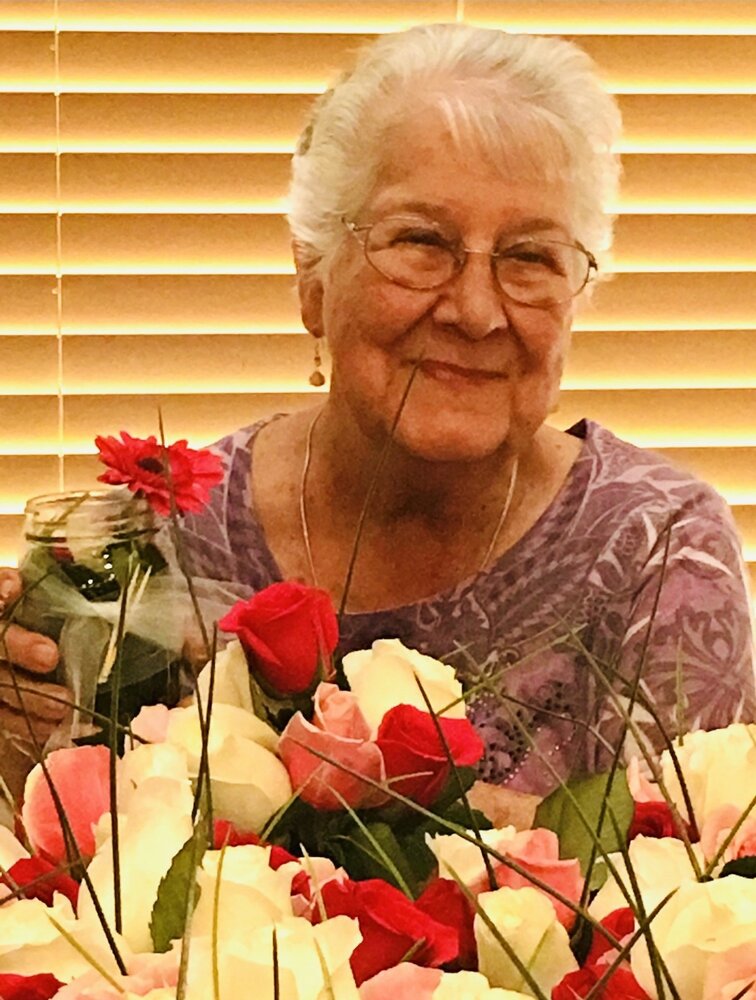 Obituary of Mable Jean Thomas Groh
Mable was born into this life May 14, 1936 in Crestview, Florida. She drew her last breath November 7, 2023 while at home surrounded by her devoted husband and family in Crowley, Texas
Mable was introduced to the love of her life, James Groh, in the summer of 1958 by her cousin whose husband worked with James. After a short time, they were married and celebrated 65 years on October 3, 2023.
She enjoyed being an Air Force wife while stationed in Florida, Hawaii, Michigan, then Texas, making many life-long friends along the way. Mable loved cooking and spending time with her family and friends. She often enjoyed fishing, camping, square dancing, and playing Hand and Foot with her girlfriends every week. She was always ready to play Farkle with her children, grandchildren, and great-grandchildren, generally ended up beating her competition but always said she didn't care if she won, she just liked spending time with us.
She was an artist in many ways including soulful southern cooking, making jewelry, tending her rose garden, baking and decorating cakes for weddings, birthdays, anniversaries, and other gatherings. She was always there for us when needed. She loved her family above all else and was devoted to her Catholic Faith.
She never met a stranger, and she showed us by example that there is power in prayer, that forgiveness should be given immediately, and that love, compassion, kindness, and laughter is best shared with others.
She was preceded in death by her parents, Audie and Carl Thomas, sister, Gladys Matuzek, brothers, Daniel and Carl Jr., and infant son, David.
Survivors include her devoted husband James; sons, Norman (Cassandra) and Michael (Tricia); daughters, Cathy Phelps (Treye) and Cyndi; grandchildren, Camden Chavarria (Andres), Brandi Kethley (Jonathan), Steven (Betony), and Mary; great-grandchildren, Lucas, Leo, Claire, Joseph, and Jacob, sister, Rita (Donald), and brother, Dewey (Margie) along with many other family members and dear friends.
Mass of Christian Burial: Rosary at 9:30 a.m. followed by Mass at 10:00 a.m. Monday, November 20, 2023 at St. Francis Village Catholic Chapel, 4125 St. Francis Village Road, Crowley, TX 76036.
Interment: 2:00 p.m. Tuesday, November 21 at the Dallas-Fort Worth National Cemetery, 2000 Mountain Creek Parkway, Dallas, TX 75211.
Memorials: Her memory may be honored with a contribution to Heart to Heart Hospice Foundation or Next Step Women's Center.


Thompson's Harveson & Cole Funeral Home & Crematory
4350 River Oaks Boulevard
Fort Worth, TX 76114
Ph: (817) 336-0345
For your information the link to the TDOB preneed information website is: