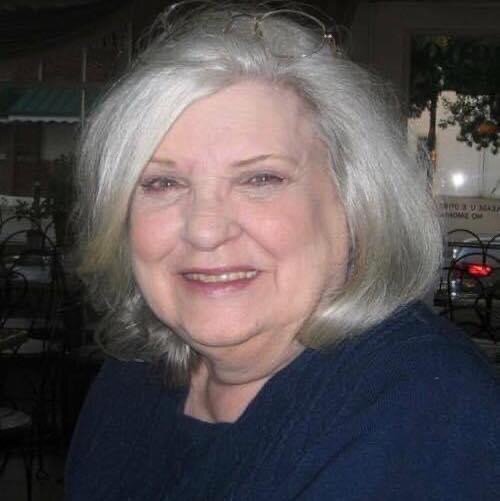 Share Your Memory of
Susie


Obituary of Susie Jordan
Susie Jordan (Jerry Sue Wright Jordan), 77, passed away at her home with her family surrounding her on Friday, April 22, 2022.
Funeral: 2 p.m. with visitation beginning at 1 p.m. on Tuesday, May 3, 2022 at Thompson's Harveson & Cole Funeral Home, 4350 River Oaks Blvd. Interment: Greenwood Memorial Park, 3100 White Settlement Rd.
Memorials: Donations in her memory may be given to SafeHaven of Tarrant County (click here to donate).
Jerry Sue Wright Jordan, known as "Susie" and "Nana" to extended family and friends, was born in Gadsden, Alabama to Clifford Lee "Tip" Wright and Katherine Adams Wright on September 20, 1944. Susie's parents and brother, David, were already living in Fort Worth before Jerry Sue's birth, but her mother traveled back to Alabama by train for Jerry Sue's birth, so her mother and twin sister could help during her first six weeks of life. Susie was disappointed to have not been born in Texas and oftentimes joked, "I was robbed of my Texas birthright, but I got here as fast as I could!'
Susie grew up as a member of St. Paul's United Methodist Church in Fort Worth where she accepted Christ as her Lord and Savior at a young age. Susie and Jimmie met at a mutual friends New Year's Eve Party in 1964/65. A few months later, Jimmie took Susie, Susan and Bonnie to the Botanical Gardens for a picnic lunch after Easter Service where Jimmie asked Susan and Bonnie to marry their mother. Of course they were all overjoyed! Jimmie and Susie were married on June 10, 1965 when Susan and Bonnie were four and two years old. When the pastor said, "You may kiss your bride." Susan yelled out at the wedding service, "Now we can call you Daddy!" Later, Christie, Deborah and Paul joined their 'Big Happy Family.'
The family attended church for many years with Susie's parents at St. Paul's UMC and on several Mother's Day services, Susie was recognized as the "Mother with the Most Children Present." When the older children became the age to attend Youth Fellowship, they transferred the family's membership closer to home to Western Hills United Methodist Church, so their children could attend church with neighbors and classmates. At Western Hills UMC, Jimmie and Susie were active members of the Searchers Sunday School Class and their family was seen filling the whole 3rd pew on the left side of the sanctuary most Sundays. On several occasions, Susie taught Youth Sunday School classes. She often arranged "field trips" to churches of other denominations and various religions, so the teenagers would have a broader understanding of Diverse Worship Traditions and Practices.
In 1981, Jimmie and Susie moved their family to Willow Park in Eastern Parker County, where their three younger children attended Aledo schools. Jimmie once served as Mayor of Willow Park as Susie served on the first years of the Willow Park Parks and Recreation Committee. She began the committee because one of her grandsons asked her, "Why does a town called Willow Park not have any parks?" Susie answered, "I don't know, but I'll see what I can do about fixing that." True to her word, Susie worked with several other residents of Willow Park to plan, fund, and build the first public park on the grounds of the Willow Park City Hall.
Professionally, Susie was known as 'Nationally Recognized Genealogist, Jerry Wright Jordan' who wrote more than a dozen genealogy books that are still being used today in both local and national libraries. As a member of the National Genealogy Society, Jerry Wright Jordan was awarded a Prestige Recognition for her series of books entitled, "Cherokee by Blood" based on her extensive research and detailed compilation of the almost 50 thousand family histories submitted by the descendants of the Eastern Cherokees to claim a portion of the federal reparation funds awarded in 1905. Susie was also a member of the Fort Worth Genealogy Society and the Parker County Genealogy Society.
In her later years, Susie became a prolific crocheter – making dozens of afghans, baby blankets, shawls, and other soft fuzzy articles of love which are still cherished locally and around the world. She often joked that she was such an avid crocheter that she developed two new psychological conditions: YAS (Yarn Acquisition Syndrome) and PAS (Pattern Acquisition Syndrome). The truth of that assertion can be clearly seen by piles of yarn still scattered about her home in Willow Park. By the way, if anyone needs some yarn just talk to her husband, children, or grandchildren for they will gladly share!
Susie loved her home in Willow Park so much that she made her husband, Jimmie, promise not to sell their home until after she was gone, because she wanted to die there surrounded by her family. Susie had been away from her home for almost seven months while in and out of the hospital many times and staying with Bonnie in between hospital stays. She returned to her beloved home on Monday, April 11 and told everyone, "I am not coming home to die. I am coming home to live out my final days at peace in the comfort of my own home for however long the Lord gives me here." Eleven days later, on April 22nd of this year, Susie left her earthly home surrounded by family to live forevermore in her heavenly home with her Lord and Savior where she is now reunited with her parents and brother, David.
At home before Susie died, after long naps, she would tell us that she had toured a new, beautiful home, and that it was absolutely perfect! She was excited and joyful about moving there soon. Susie also told us, "Your father will join me there after he takes care of some more things at work." She later said, "And eventually, all of you will join us there too, but ya'll still have a lot more work to do here before you can come." Susie will be greatly missed by all who loved her, but we are thankful for the assurance that we will be reunited with her in heaven when our work here is done.
Susie is survived by her cherished husband, Jimmie Jordan; her five well loved and devoted children and three son-in-laws: Susan and Jim Fant; Bonnie McCamey; Christine and Charlie Lee, Deborah Jordan-Christal and Dale Christal; and her one and only son whom she doted on greatly, Paul Jordan. Susie is also survived by many grandchildren and great-grandchildren — her absolute joy and hope for the future: Ryan and Reggye Fant and daughter, Piper; KatyMae Fant and children, Hendrix and Jagger; Warrant Officer Devin McCamey and wife, Aubrey McCamey and children Tristen & Lillian; Brandon McCamey; Megan and Joe Morris; Jesse Walla; Alyssa Lee; and Millie Jean Jordan. Susie's light, love and memory will live on in all of us!
Visitation:
1:00 pm - 2:00 pm
Tuesday, May 3, 2022
Thompson's Harveson & Cole
4350 River Oaks Blvd
Fort Worth, Texas, United States

Get Directions
Service:
2:00 pm
Tuesday, May 3, 2022
Thompson's Harveson & Cole
4350 River Oaks Blvd
Fort Worth, Texas, United States

Get Directions
Thompson's Harveson & Cole Funeral Home & Crematory
4350 River Oaks Boulevard
Fort Worth, TX 76114
Ph: (817) 336-0345
For your information the link to the TDOB preneed information website is: