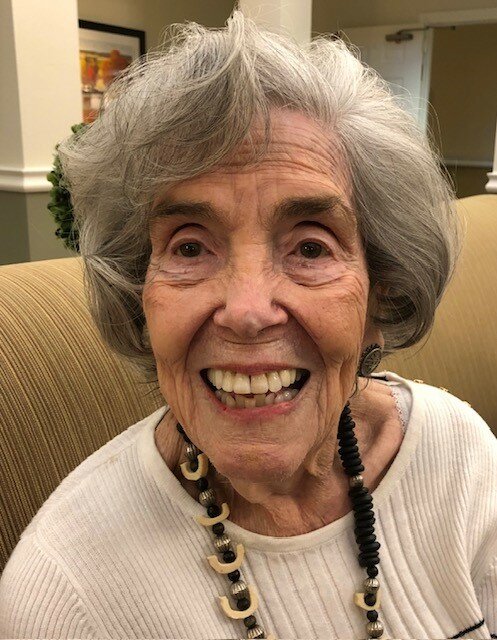 Obituary of Gracie Mae Philley Rhyne
Gracie Mae Philley Rhyne, 92, passed away October 12, 2023.
Graveside Service: 2:00 p.m. Wednesday October 18, 2023 at Greenwood Memorial Park.
​Gracie Mae Rhyne was born December 31, 1930 in Abilene, Texas to Ulric and Grace Philley, the daughter of cotton farmers. She was the 3rd of 5 sisters. During high school, she won an essay contest that sent her on a trip to Fort Worth. On that trip, she fell in love with the cultured city. After graduating from Abilene Christian University, she returned to Fort Worth and began her career as a teacher. She met the love of her life, Joseph Ray Rhyne and they married on February 11, 1955. They had 4 children Robin, Rebecca, Russell, and Rachel.
Gracie taught with Fort Worth ISD for 42 years before retiring. She loved to assist others in learning so much so thatshe welcomed dyslexic children into her home during summer to assist them with their reading. Gracie maintained contact with several of her past students; always bragging about their accomplishments well after they had left her classroom. Gracie sang with the Southwestern Seminary Oratorio Chorus and the ACU Alumni choir. She loved music and never shied away from the opportunity to sing. Her grandchildren and nieces have fond memories of her teaching them how to play the bells and singingChristmas carols. She was an active member of the Woman's Club of Fort Worth, Euterpean Club, and several civic groups.
Gracie genuinely cared for others and was a generous and kind soul. She loved to socialize and be with people. Her smile and mischievous sense of humor eased her way through life.
Gracie was a faithful Christian and servant of the lord. No doubt she is rejoicing in Heaven.
The most important thing to her was for there to be peace and love amongst her children and family. Gracie touched the livesof so many and possessed such a remarkable presence that herabsence will surely be felt until we finally see her again.
Gracie is preceded in death by her Husband Joseph Ray Rhyneand her 4 sisters.
She is survived by her children, grandchildren, and one great grandson which gave her great joy.


Thompson's Harveson & Cole Funeral Home & Crematory
4350 River Oaks Boulevard
Fort Worth, TX 76114
Ph: (817) 336-0345
For your information the link to the TDOB preneed information website is: